A few ideas for family days out
Aqualandia
Aqualandia is one of the largest water parks in the world with a host of water based fun and activities. Located just outside of Benidorm the large park will provide a whole day out for all the family.
Facilities include changing rooms, safety deposit boxes, restaurants, picnic areas.
There is a variety of slides from gentle water slides for the younger children to heart racing fast slides for the adventurous rider. Please be aware height restrictions will apply. There is also a number of swimming pools and sunbeds available to hire.
Season opens in May and you can often find discount vouchers in local stores.
Various price packages are available and always best to book online.
Address: Sierra Helada s/n – Rincon de Loix, 03503 Benidorm
Full details and booking at www.aqualandia.net
BIOPARC Valencia
The BIOPARC Valencia is an exceptional day of for all the family. Experience the animals up close with lots of daily experiences to enjoy.
The park is home to numerous animals established in natural surroundings. Also in the park you will find places to eat and drink, gift shops and information on park experiences to get even closer to the animals.
BIOPARC is described as a next generation zoo where visitors are immersed in the natural habitats of the animals. They incorporate multispecies enclosures to mimic natural interaction and have implanted non-visible barriers to visitors get an up close and personal style visit.
Address: Av. Pío Baroja, 3, 46015 València
Read more and link to book tickets here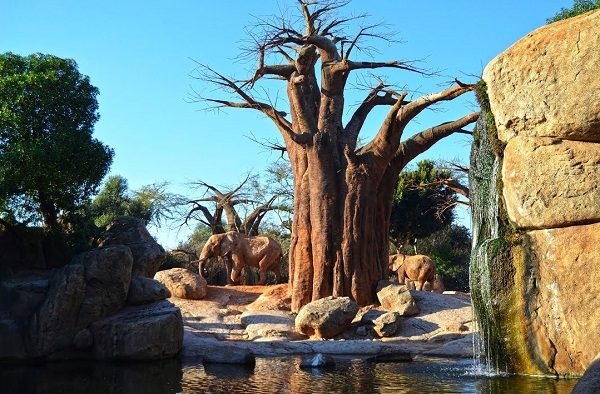 Brevis Minigolf – Sol Park
If your wanting to put your feet up whilst the kids play in a safe enclosed environment with plenty on offer then Brevis Minigolf is the place to visit.
For the children there is a medium sized soft play centre under cover and shaded but fully visible from anywhere in the restaurant with tables and chair directly next to it. During busy periods there is a gigantic bouncy castle slide great for kids of all ages (and adults if you can sneak on!). The park is littered with trampolines, and kids toys. A small go kart style track lets kids choose a range of pedal bikes, trikes and cars.
For the older kids and adults there is a very good mini golf available and a small football pitch area. There is a full bar and restaurant offering various tapas, light bites and full meals. All well priced and good quality. In addition is a well stocked children's tuck shop filled with small toys and sweet to keep them occupied.
Brevis also cater for children's birthday parties.
Target Age Range: All age groups
Address: 03724 Moraira, Alicante
Get Directions Link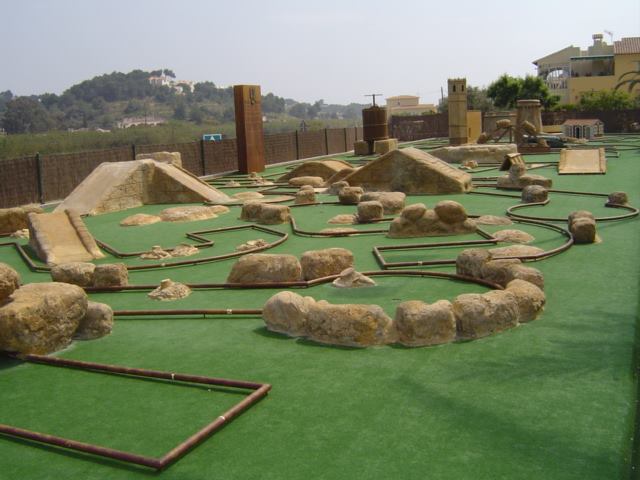 City of Arts and Science – Valencia
The City of Arts and Sciences in Valencia is a unique complex made of five main elements each devoted to demonstrating a specific area of interest.
The areas include: The Hemisferic – IMAX cinema and digital projections, The Umbracle – A landscaped vantage point and car park, The Science Museum – an innovative centre of interative science, The Oceanografic – the largest aquarium in Europe and The Palau de les arts reina sofia – an operatic programme and multifunctional space.
The centre boasts stunning architecture and offers an endless capacity for entertaining and stimulating the minds of its visitors young and old.
Pricing Range: Various depending on attraction visited – consult website for prices
Target Age Range: All age groups welcome
Address: Av. del Professor López Piñero, 7, 46013 València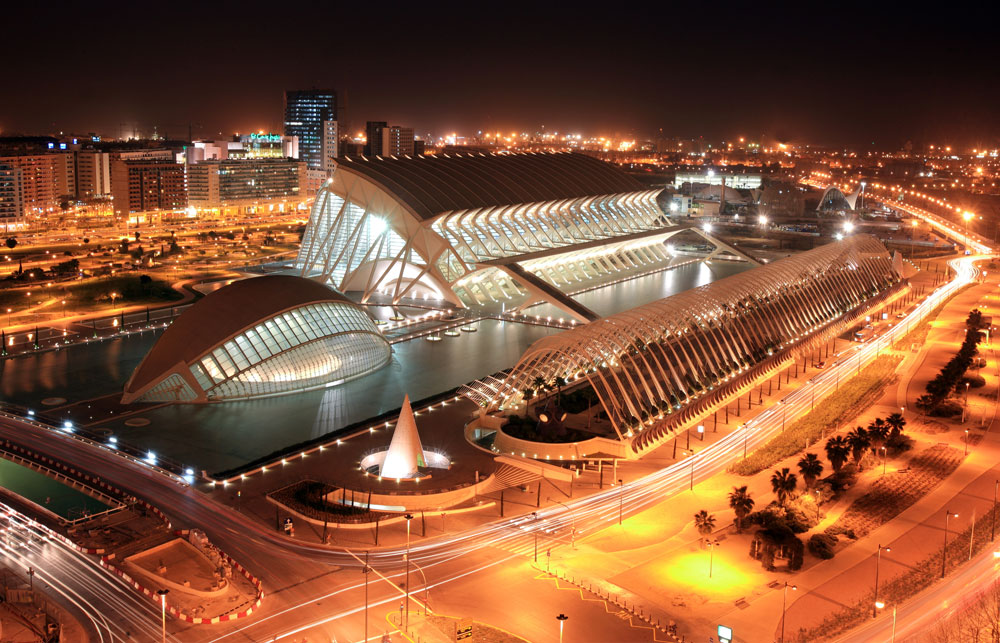 Coves de Sant Josep
Embark on an adventure to the centre of the earth! A unique natural space where visitors discover new sensations, impressive silence, mystery of the origin and a feeling of travelling through time.
Your tour takes you on a boat through the winding caves, the echoing sound of water droplets hitting the water. Marvel at natural rock formations and harmonious natural light.
Experience life in the cave where its inhabitants lived more than 15,000 years ago.
Additional services on site include free parking, hiking trails, children's entertainment (high season only), summer pool, picnic areas, children's play area, gift shop.
See more here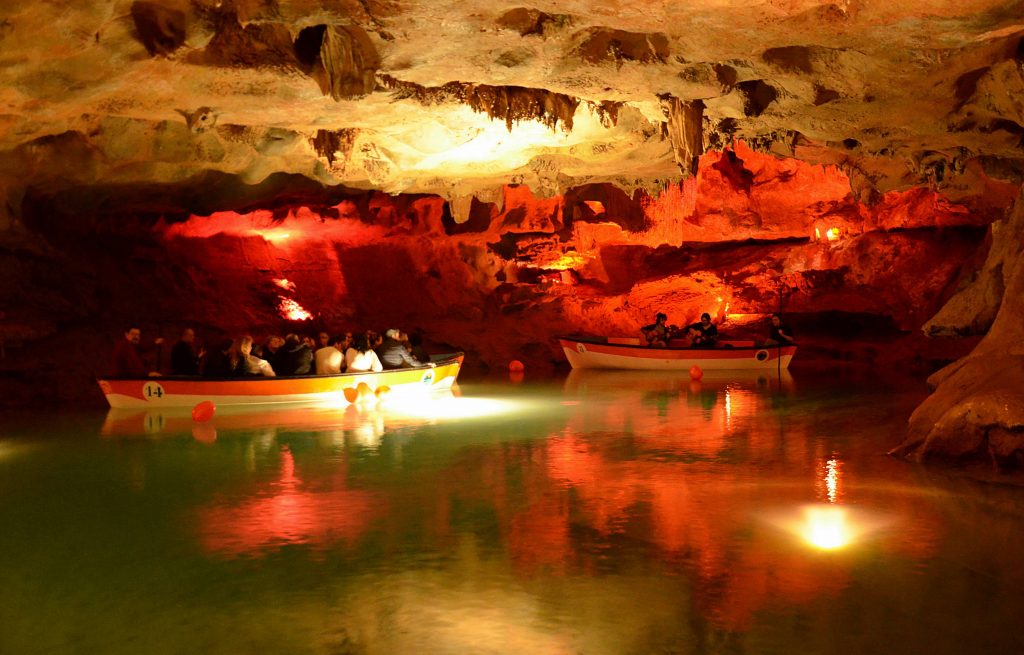 Dino Park Algar
Fun and education for all ages, enjoy over 30 animated dinosaurs, a 3D cinema, attractions and a nature trail, built by a leading European educational attraction company''
The Algar Dino Park is a fun and educational attraction set in 6 acres of botanical and cactus gardens. Realistic models and robotic dinosaurs are placed in natural settings for children enjoy and learn about. The park boasts over 30 animated dinosaurs accompanied by sound and educational information.
In addition to the dinosaur trail the park is complimented with a 3D cinema, children;s attractions and a nature trail.
Target Age Range: All age groups
Address: Partida Segarra s/n, Callosa d'en Sarrià (Alicante) 
Read more here and watch video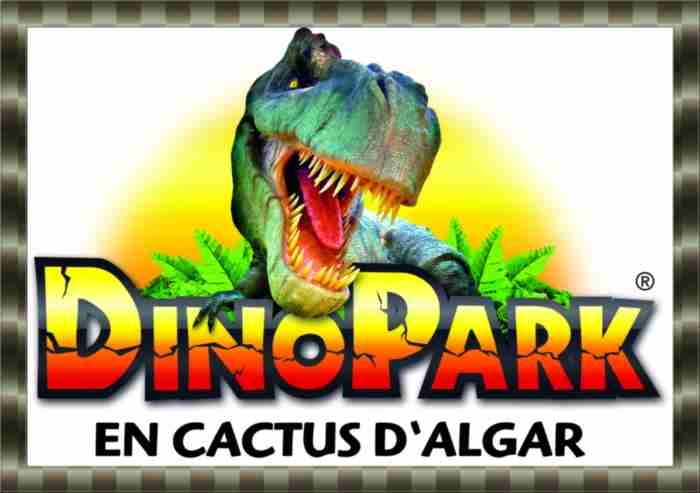 Embalse de Benageber
This activity centre provides an selection of various activities as well as camping accommodation.
Activities include tree top games, zip lines, archery, waterfall swimming, horse riding, abseiling, canoeing, paintballing, orientating, trampoline bungy, hiking, boating and more.
Target Age Range: 6yrs plus
Address: Plaza del Cerrillar, S/N, 46173 Benagéber, Valencia
Get Directions Link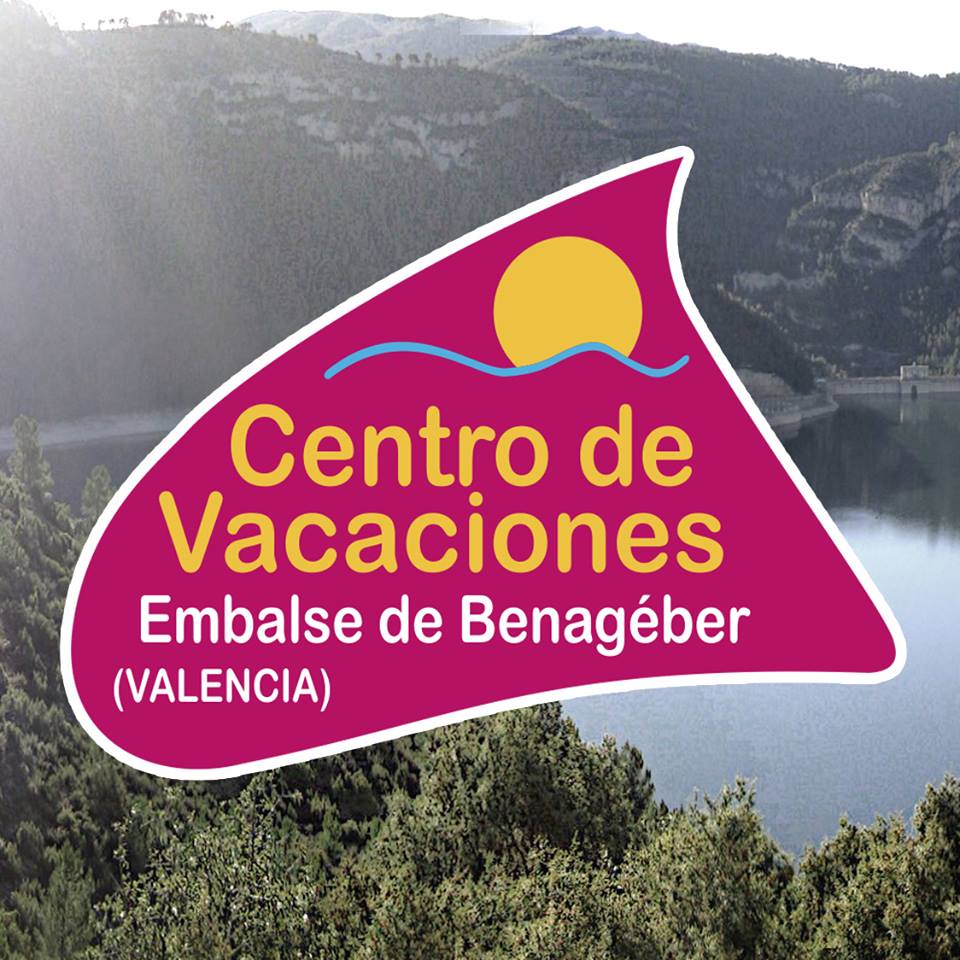 Festilandia Park – Benidorm
A recreational fun park for children offering a range of smaller rides for young children and a jam packed arcade room for all ages.
There is a mini golf course available
Pricing Range: Free Entry – Various prices for machines/rides
Target Age Range: Younger children/Young Teens
Address: Av. del Mediterráneo, 20, 03503 Benidorm, Alicante
Forestal Park
Located in La Nucía, Forestal Park is a great adventure theme park.
Zip lines, excitement, fun and nature for all.
Feel the adrenaline through the tours among the trees. You will feel like a true adventurer, cross bridges, scale networks and slide down our zip lines
An authentic adventure recommended for everyone from 6 years to adult. They take care of everything you need, personal protective equipment and safety briefing to help you enjoy a great day in the forest.
Over two hours of fun with your family, for a special birthday or even a school outing.
Further information here
Gulliver Park 
''Feel like a big kid as you climb the full scale Gulliver''
This adventure park includes a scale model of the city, which is outlined with a mini gold course, A giant chessboard, tracks, skateboard area and plenty of playground equipment should keep children and adults entertained for hours. This is a real quirky addition to attractions in Valencia.

Target Age Range: All age groups
Address: Jardín del Turia, s/n, 46023 Valencia
See more here
Lo Rufete Multi Adventure Park     
If your an active family looking to do multiple activities in one location, then Lo Rufete could be an ideal day out for you.
With an assortment of activities available including Quad Bikes, Horse Riding, Paintballing, Kayaks, Mini Golf, Zip Wire, Archery, Eco Friendly Cars and a play park with bouncy castle. Bring your swim wear for the large on site swimming pool.
There is something for everyone here. There is parking available and picnic areas. Near by restaurant offers quality home made food.
Pricing Range: Various based upon chosen activities from €3.00
Target Age Range: 6yrs plus
Address: Ctra. Torrevieja-Orihuela. Cruce hacia Torremendo C.V. 951
Further Information and Prices etc here
Morai Park Fun Fair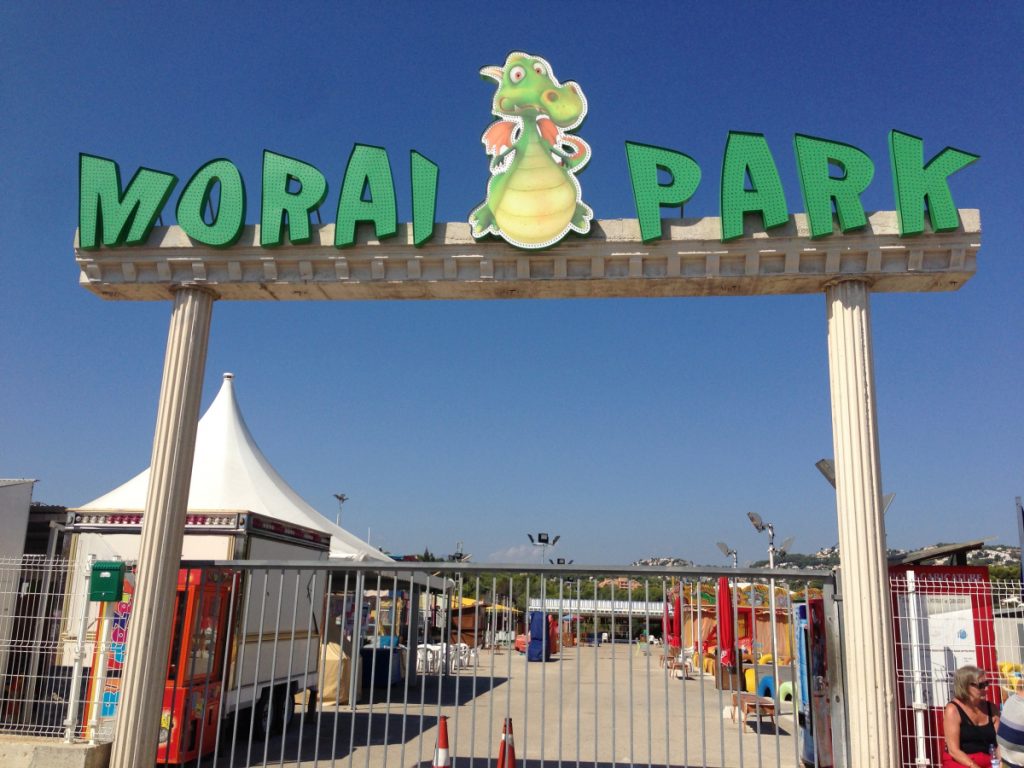 Morai Park Fun Fair is an evening entertainment attraction open during the summer. Located in the main car park of Moraira it is a permanent fixture offering a range of fun fair rides for children.
From wacky fun houses, powered trikes, trampolines, train rides, dodgems and more. There are also tradition games like 'hook-a-duck' and cork gun shooting games.
Drinks and treats are available in the small cafe and rides are paid for by buying tickets which are approx. €2.00 each and sold in various bundles.
Coin operated machines are dotted around the park also. A lovely attraction so spend a few hours keeping the younger ones entertained.
Target Age Range: All age groups but primarily under 16s
Address: Av. Madrid, Moraira, Spain (Located in the large main car park in Moraira)
Mundomar
Located in the theme park district of Benidorm next door to Aqualandia this is a must visit attraction for animal enthusiasts. Think Seaworld Florida, here in Spain.
A popular show is the dolphins. You can even watch the show from an underwater viewing point.
As well as dolphin shows there are also sea-lion, seal and parrot shows available.
The park has a variety of restarants, picnic areas, shops and a children's play area. Discount vouchers are often available in shops.
Opens mid March ……Various price packages available
Address: Sierra Helada s/n – Rincon de loix 03503, Benidorm
Booking and further details here www.mundomar.es
Oceanographic ..The Largest Aquarium in Europe
Located in the Avant-Garde architectural complex of the City of Arts and Sciences in València, the aquarium is a true tribute to the seas and oceans of the planet and contains large aquariums which reproduce the most important and amazing marine ecosystems.
Oceanogràfic Valencia is certainly a first-rate scientific, educational and recreational centre.
A whole sea of sensations which can spark your imagination.
RIO Safari Elche
RIO is an on foot safari located in near Elche, Alicante. It is possible to take a train and guided tour of the park.
There are daily shows including parrots, birds of prey and sea-lions.
For those wanting a more personal experience you can purchase additional activities such as swimming with sealions, pony rides and llama feeding.
The park hosts various food and drink kiosks as well as gift shops. Parking and facilities are available on site.
Pricing Range: Children (3-12yrs) €17.00, Adults €22.50. Buying online usually has discounted rates.
Target Age Range: All age groups
Address: Poligono 1, Carretera Elche-Santa Pola Partida Valvede Bajo, 102, 03139 Elche, Alicante
Safari Aitana
''A real safari and wild life adventure''
Enjoy a real wildlife safari experience. The park covers 1.5million m2 and is a haven for animals from 5 continents. Here you can observe the numerous animals in a natural surrounding going about their day to day life.
Guided tours are available which incorporate animal feeding times. Private Keeper tours and VIP trips also available.
There is an onsite restaurant.
Pricing Range: 4-10 yrs €16.00, Adults €20.00
Target Age Range: Ages 4 and upwards
More Information Here
Terra Mitica
Terra Mitica is a theme park located on the outskirts of Benidorm. The park is divided into 5 themed zones; Egypt, Greece, Rome, Iberia and The Islands. If you enjoy fast rides, roller coasters and log flumes them this is the place to get your thrills.
Enjoy a day riding the roller coasters. When your ready there are ample places to buy drinks and snacks as well as gifts and goodies. Terra Mitica also has various shows throughout the day to keep you entertained.
Target Age Range: All age groups welcome, height/age restriction may apply for some rides
Address: Partida del Moralet, s/n, 03502 Benidorm, Alicante
Further information and booking at http://www.terramiticapark.com/
Terra Natura & Aqua Natura
Terra Natura is a zoo offering visitors the chance to get up close to the animals of the park with hidden barriers, you can experience being in with the animals whilst hidden barriers keep both animals and visitors safe from each each. The park stretches 79 acres boasting over 1500 animals and is open all year.
Once inside the park visitors can attend several daily shows including a bird of prey show amongst others. Children will enjoy the open petting zoo area where Llama, goats and similar animals wander freely around you in a secure zone, pet the animals and enjoy their personalities.
There are several large play park areas and a high wire obstacle course for the children to enjoy.
There are a number of picnic areas and food zones where you can purchase food, drinks and ice creams. A gift shop is located at the end of the park. There are plenty of facilities. Toilets, baby changing etc dotted around the site.
The sister park is Aqua Natura which is physically attached to the zoo and accessible via its own entrance. With a number of large swimming pools and child friendly flumes. For the older children and adults are a range of fast flumes some using rubber rings.
Facilities include picnic areas, food and drink stalls, changing rooms, locker hire, first aid, sun bed hire, photo booth and a few arcade machines/pool table.
There is a relaxing Jacuzzi available and VIP sun bed areas which offer exclusive extras.
Enjoy the sea-lion shows and entertainment shows throughout the day to keep the whole family entertained.
Target Age Range: All ages welcome.  Height restriction for some activities.
Address: Partida Foia del Verdader, s/n, 03502 Benidorm, Alicante
Full details and booking here…..
 Valor Chocolate Factory – Museum 
The Valor chocolate museum opened its doors in 1998 in order to raise peoples awareness of how this rich chocolate is made.
Visitors will learn about the Valor chocolate heritage, its upkeep and research work. The museum houses some of the best collections of machinery used in the chocolate making world.
Chocolate lovers dream, come and see how Valor chocolate is made. This is a 45 minute tour. No parking is available on site. The tour is comprised of an audiovisual presentation, a walk through the museum and chocolate tasting in the gift shop.
Pricing Range: FREE
Target Age Range: Suited to older children 6+
Address: Avinguda Pianista Gonzalo Soriano, 13, 03570 La Vila Joiosa, Alacant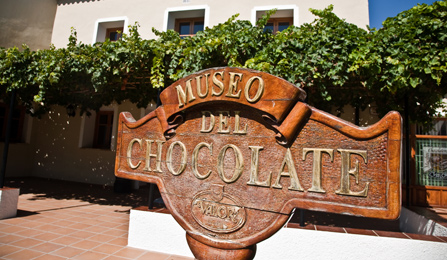 Vital Parcentre (Adventure Park)
The Vital Parcentre Adventure Park has been created for those who enjoy adrenaline fuelled outdoor pursuits.
Don your harness and safety helmet as you climb into the tree canopy, walk rope bridges between trees and fly on zip wires. Climb rock faces and push your limits with 3 high wire adventures.
For the less adventurous there is a host of additional activities.
Pricing Range: Children €12.00, 12-18yrs €15.00 Adults €22.00
Target Age Range: Older Children (8 plus) and Adults
Address: VITALPARCENTRE ADVENTURE PARK CAMI DEL POU 77 03792 PARCENT
See more, plus video here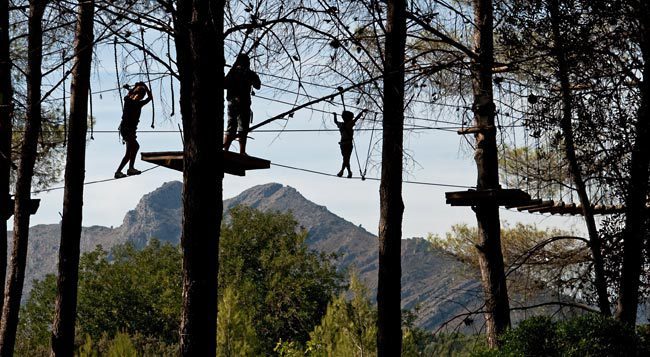 For more places to visits for all tastes and ages, visit our Out and About Pages :-