El Palmeral Park
Located in the southern exit of Alicante this park lives up to its name. Roads, tracks and water zones are encased with hundreds of palm trees. Water zones and waterfalls create both playful and social areas to gather.
The park boasts a boating lake, park games, a sports track, BMX track, children's play area, picnic areas, kiosk for food and drinks, on site toilets and parking.
September to June. – Monday to Friday – Morning: from 8:30 to 14.30
June to August Everyday -Afternoons: from 4:00 p.m. to 10:00 p.m.
Saturdays, Sundays and holidays. Morning: from 10 a.m. to 1:30 p.m. Afternoons: from 17,30 to 20 hrs.
Pricing Range: FREE
Address: Avenue Elche, Alicante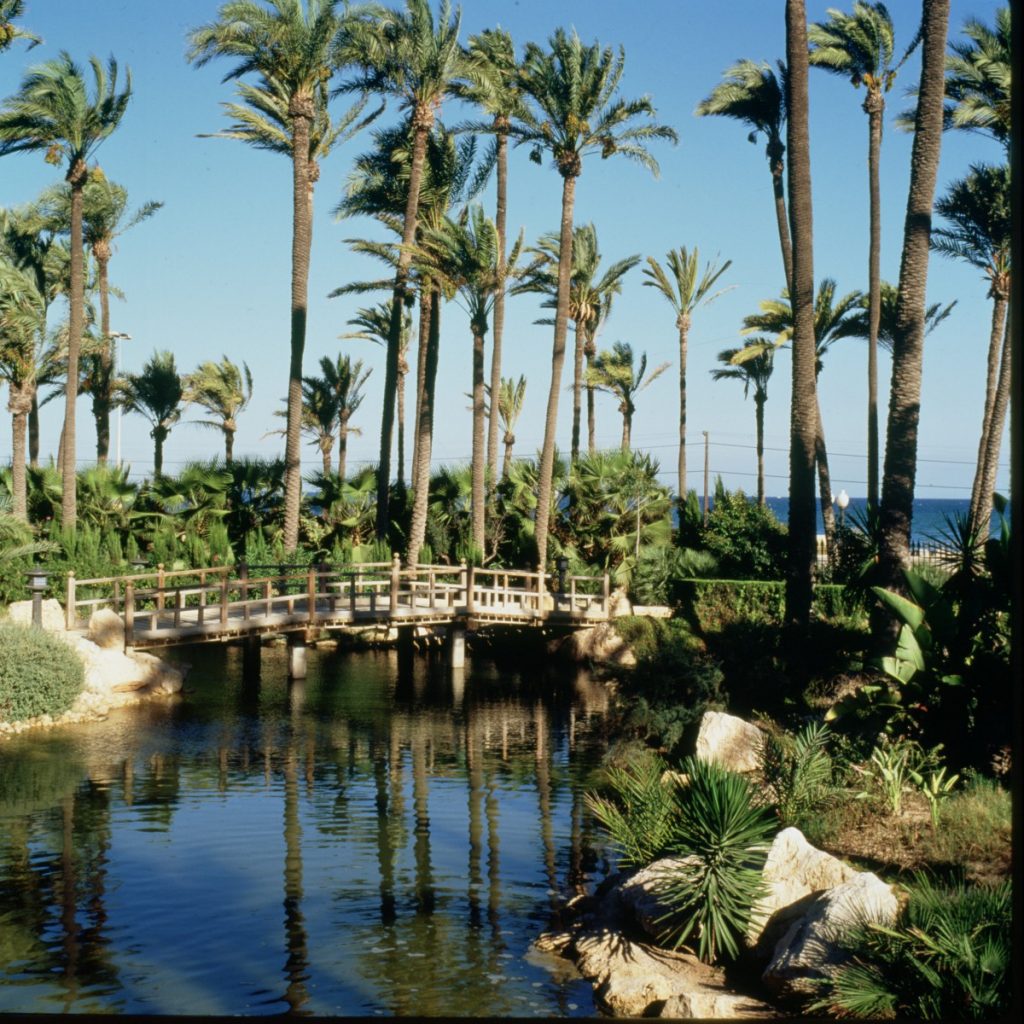 Tabarca …
….also known in Valenciano as Nova Tabarca and Illa Plana, and in Spanish as Nueva Tabarca and Isla Plana), is an islet located in the Mediterranean Sea, close to the town of Santa Pola, near Alicante. It is the smallest permanently inhabited islet in Spain and it is currently known for its marine reserve.
The islet is 1,750 m (5,741 ft) long, with a maximum breadth of 300 m (984 ft) and absolutely flat. Almost next to the main islet lie the islets of la Nau, la Galera and la Cantera. Tourism is the main economical activity, especially during the summer. There are several boats connecting Tabarca with Alicante, Santa Pola and Torrevieja, with higher frequencies during summer time.
Read more, see a video, photos,hotels and details of how to get there here
Les Murtes Donkey Sanctuary Jalon
Reviewed by Dick Suer – March 2018 " The Donkey Sanctuary can be found high in the mountains behind Jalon. The friendly German owner has been taking care of the homeless donkeys that have been found in Spain for many years. He has brought these together in a well-kept " donkey park ", which can be admired by its visitors .This is a charitable sanctuary and relies upon donations and visitors to maintain the running costs
There is also a restaurant which resembles a clump of old fincas – where food is cooked according to bookings. It has an extensive terrace where you can view the whole area. A characteristic place and very unique.
Opening hours
Open Wednesday to Sunday. Reservation advised for eating at the restaurant (tel: 965 973 244) partly because the ingredients are brought in fresh every day.
Address: Cami Murtas Barranco 13-17 03727 Xaló Alicante, Spain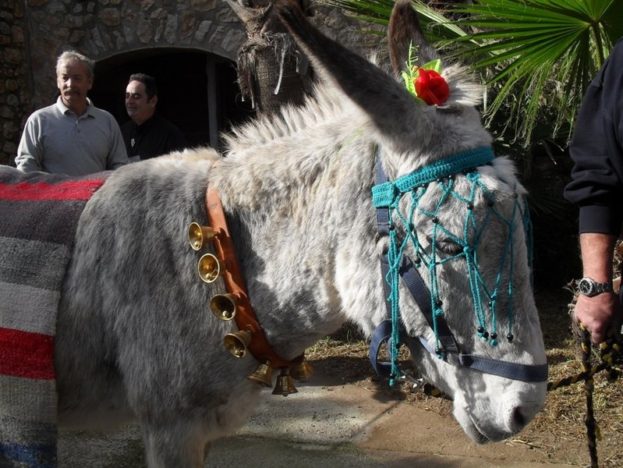 Lo Rufete Multi Adventure Park
If your an active family looking to do multiple activities in one location, then Lo Rufete could be an ideal day out for you.
With an assortment of activities available including Quad Bikes, Horse Riding, Paintballing, Kayaks, Mini Golf, Zip Wire, Archery, Eco Friendly Cars and a play park with bouncy castle. Bring your swim wear for the large on site swimming pool.
There is something for everyone here. There is parking available and picnic areas. Near by restaurant offers quality home made food.
Pricing Range: Various based upon chosen activities from €3.00
Target Age Range: 6yrs plus
Address: Ctra. Torrevieja-Orihuela. Cruce hacia Torremendo C.V. 951
Further Information and Prices etc here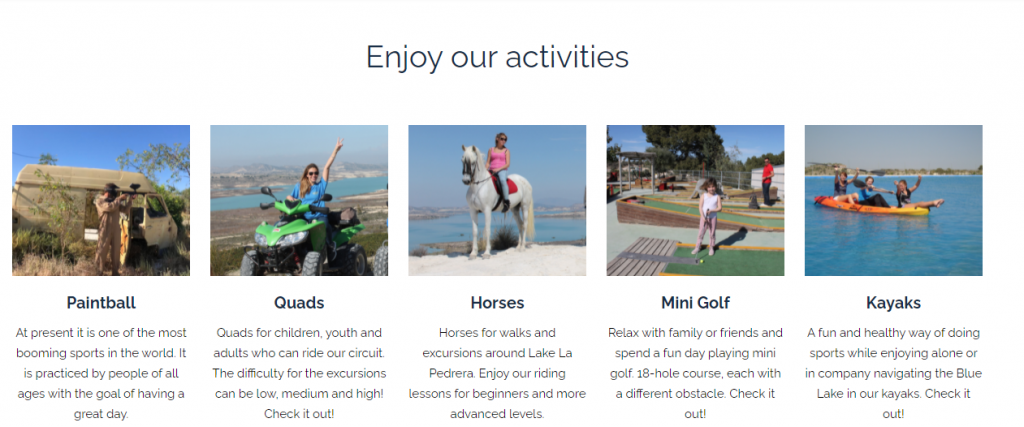 Aqualandia
Now with the largest water slide in the World! Aqualandia is one of the largest water parks in the world with a host of water based fun and activities. Located just outside of Benidorm the large park will provide a whole day out for all the family.
Facilities include changing rooms, safety deposit boxes, restaurants, picnic areas.
There is a variety of slides from gentle water slides for the younger children to heart racing fast slides for the adventurous rider. Please be aware height restrictions will apply. There is also a number of swimming pools and sunbeds available to hire.
Season opens in May and you can often find discount vouchers in local stores.
Various price packages are available and always best to book online.
Address: Sierra Helada s/n – Rincon de Loix, 03503 Benidorm
CLICK HERE FOR WEBSITE/BOOKINGS
Mundomar
Located in the theme park district of Benidorm next door to Aqualandia this is a must visit attraction for animal enthusiasts. Think Seaworld Florida.. here in Spain.
A popular show is the dolphin display which takes place daily between and you can even watch the show from an underwater viewing point.
As well as dolphin shows there are also sea-lion, seal and parrot shows available.
The park has a variety of restaurants, picnic areas, shops and a children's play area. Discount vouchers are often available in shops.
Opens mid March ……Various price packages available
Address: Sierra Helada s/n – Rincon de Loix 03503, Benidorm
Booking and further details here www.mundomar.es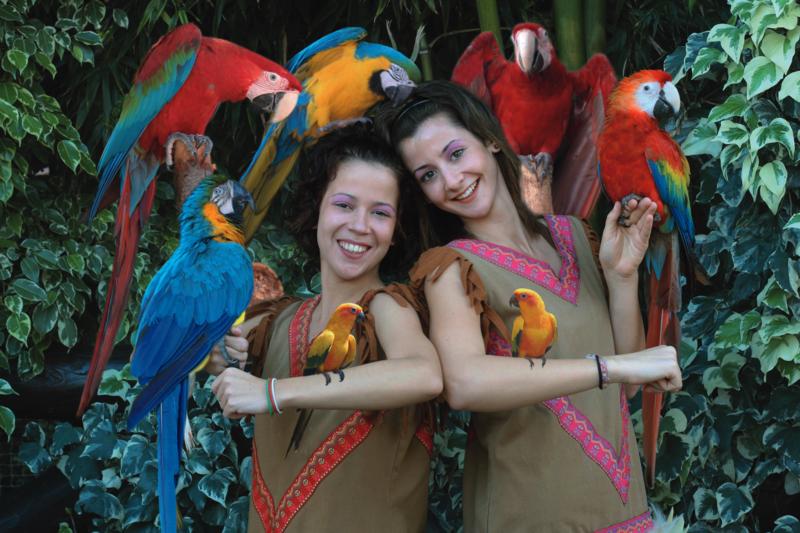 Terra Mitica (only Iberia & The Island areas are open summer 2021)
Terra Mitica is a theme park located on the outskirts of Benidorm.
The park is divided into 5 themed zones; Egypt, Greece, Rome, Iberia and The Islands. If you enjoy fast rides, roller coasters and log flumes them this is the place to get your thrills.
Enjoy a day riding the roller coasters. When your ready there are ample places to buy drinks and snacks as well as gifts and goodies. Terra Mitica also has various shows throughout the day to keep you entertained.
Target Age Range: All age groups welcome, height/age restriction may apply for some rides
Address: Partida del Moralet, s/n, 03502 Benidorm, Alicante
Further information and booking at http://www.terramiticapark.com/
Terra Natura
Terra Natura is a zoo offering visitors the chance to get up close to the animals of the park with hidden barriers, you can experience being in with the animals whilst hidden barriers keep both animals and visitors safe from each each. The park stretches 79 acres boasting over 1500 animals and is open all year.
Once inside the park visitors can attend several daily shows including a bird of prey show amongst others. Children will enjoy the open petting zoo area where Llama, goats and similar animals wander freely around you in a secure zone, pet the animals and enjoy their personalities.
There are several large play park areas and a high wire obstacle course for the children to enjoy.
There are a number of picnic areas and food zones where you can purchase food, drinks and ice creams. A gift shop is located at the end of the park. There are plenty of facilities. Toilets, baby changing etc dotted around the site.

Aqua Natura
The sister park is Aqua Natura which is physically attached to the zoo and accessible via its own entrance. With a number of large swimming pools and child friendly flumes. For the older children and adults are a range of fast flumes some using rubber rings.
Facilities include picnic areas, food and drink stalls, changing rooms, locker hire, first aid, sun bed hire, photo booth and a few arcade machines/pool table.
There is a relaxing Jacuzzi available and VIP sun bed areas which offer exclusive extras.
Enjoy the sea-lion shows and entertainment shows throughout the day to keep the whole family entertained.
Target Age Range: All ages welcome. Height restriction for some activities.
Address: Partida Foia del Verdader, s/n, 03502 Benidorm, Alicante
Full details and booking here…..

City of Arts and Science – Valencia
The City of Arts and Sciences in Valencia is a unique complex made of five main elements each devoted to demonstrating a specific area of interest.
The areas include: The Hemisferic – IMAX cinema and digital projections, The Umbracle – A landscaped vantage point and car park, The Science Museum – an innovative centre of interactive science, The Oceanografic – the largest aquarium in Europe and The Palau de les arts reina sofia – an operatic programme and multifunctional space.
The centre boasts stunning architecture and offers an endless capacity for entertaining and stimulating the minds of its visitors young and old.
Pricing Range: Various depending on attraction visited – consult website for prices
Target Age Range: All age groups welcome
Address: Av. del Professor López Piñero, 7, 46013 València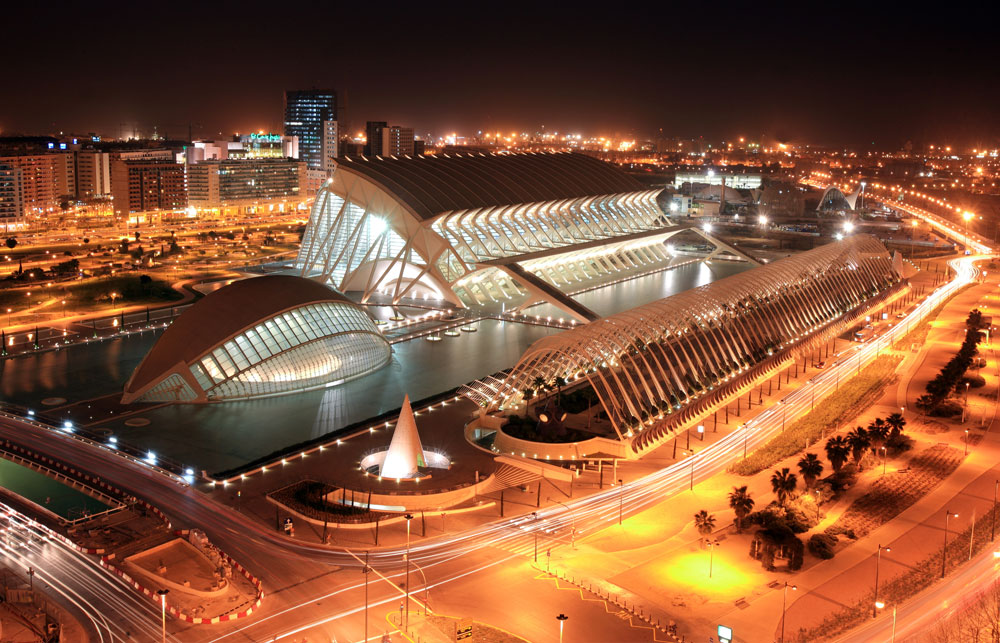 Pinosol Park – Javea
Miguel Angel Miguel Garcia. The Man With the Magic Chainsaw!Pinosol park provides an great venue to socialise and keep both children and adults entertained for hours. The park is dominated by a large children's play park, a football pitch and outdoor gym equipment/obstacle course. Surrounded by pine trees and open space children can explore and go wild with their imagination as they play.
Recently effected by local fires damages trees have been cut short and carved into amazing animal carvings for you to admire.
The park is dotted with picnic benches and there are BBQ pits for use by visitors ( depending on season) . Facilities include toilets and rubbish bins.
In the main free car park you will find the kiosk which offers cold drinks, beers and a varied menu including rotisserie chicken.
***Dogs are permitted in the Kiosk but not in the park itself.
Address: Carrer Francesc Gimeno, 2, 03739 Javea.
There are a number of carved wood statues to visit that were made after the huge Javea Fire of 2016 by a very talented local man Miguel Angel Garcia. 😀
APAC, La Xara
Family Open Days on Sunday Mornings at 9.30 am and and Thursday Evenings at 6pm.
APAC Caballos Rescue Horses was set up to defend & protect horses and offer a second chance by adoption. But they also have wonderful open days where drinks are just one euro each, plus free tapas.
The atmosphere is relaxed and always fun, especially for the children who can feed and interact with all the animals. Take a look at the video below.. you will see what we mean! Not just horses…….donkeys, goats,dogs and cats too.
And Lois, who runs it is Spain's answer to Dr. Doolittle!!
Watch the video on the article below 😁 and find out more…
OZONE Bowling & Arcade Benidorm
OZONE Benidorm provides an air conditioned high quality venue for those looking to break away from the mid day sun or feed their appetites for neon lighted entertainment.
There are 2 floors of arcade machines which include virtual reality games, racing games, shooting games to basketball, air hockey, and plenty of games for younger children.
Many of the younger aged games dispense tickets which can then be exchanged for a variety of prizes.
As well as a quality arcade there is a tenpin bowling alley which is great fun for all the family.
Located on site is a bar and cafe so you can enjoy a cold drink or snack whilst visiting.
There is no car parking facilities however there are pay and display bays on all surrounding side streets and various car parks located in Benidorm.
Pricing Range: Bowling approx. €4.50 per person. Arcade machines from €1.00
Target Age Range: All ages welcome
Address: Ed. Miramar Playa, Av del Mediterráneo, 22, 03503 Benidorm, Alicante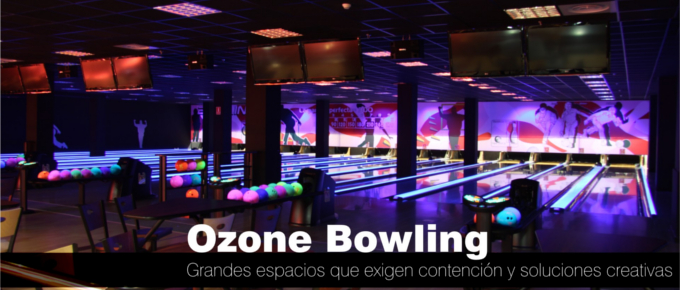 Merlin Park Alicante
Merlin Park in Alicante provides 3 floors of inflatable, soft play, ball pit filled fun. Promoted as a kids birthday party venue it provides a safe area for children to enjoy themselves. There are daily performances from inhouse characters, magicians and entertainers.
The venue has an large cafeteria for food and drinks.
Hours:-
From Monday to Friday: From 5:00 pm to 9.00 pm
Saturday, Sunday (and holidays): From 10.00 -14.00 and 5:30 to 9:00 p.m.
Target Age Range: Younger children
Address: Carrer Fortuny, 19, 03009 Alacant
Website link Get Directions Link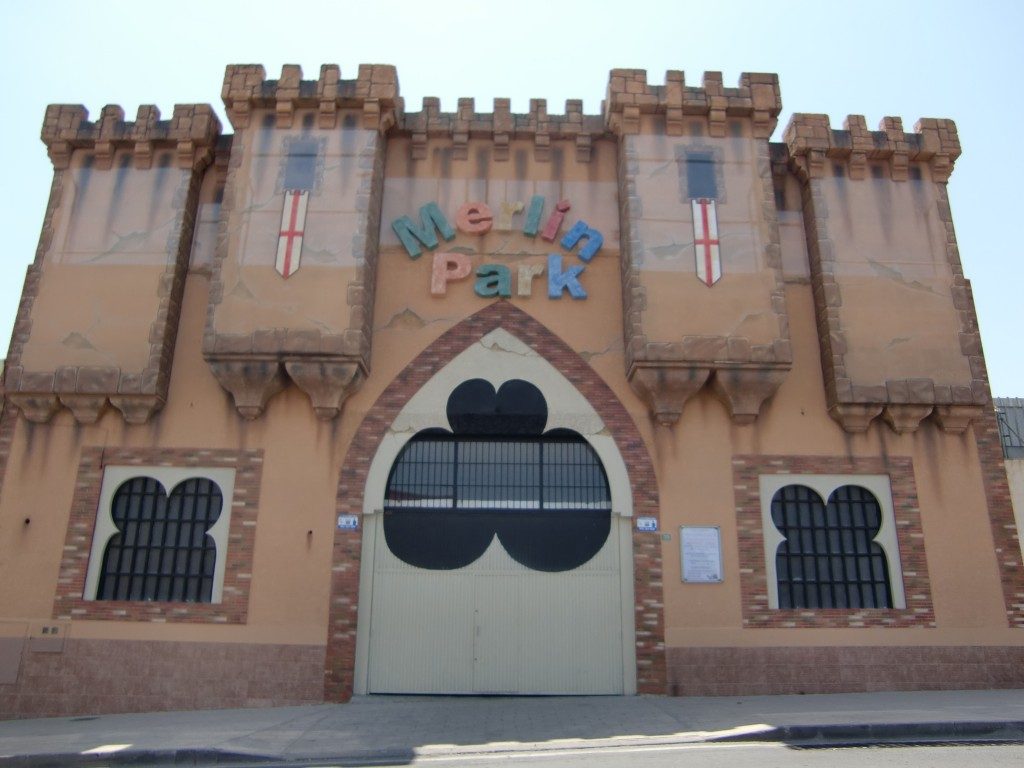 Bike & BMX Park Alicante
BMX and dirt track riders are going to love this 10sqm biking heaven. Open to riders of all levels and experiences.
The park includes bike trails, a pump track, dirt jump track, BMX track, fun box and a foam pit to practice before hitting the dirt.
Want to learn to ride like a pro? They offer a biking school to teach you cool tricks and how to ride safely.
Visitors can hire bikes and safety helmets as well as under go a safety briefing.
Pricing Range: From Day pass €10.00, bike hire from €10.00 a day. Tuesday discounts.
Target Age Range: Older children, teenagers and adults
Address: Partida Boratxina, Poligono 4, parcela 81, Muchamiel
Website link Get Directions Link