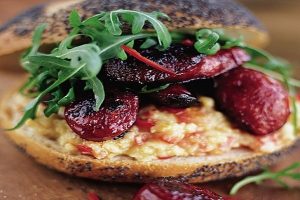 I picked this week's recipe from the much loved or hated Jamie Oliver!  But it sounds delicious and I may even try it despite the fact that I am not a big meat eater ( and I pronounce "chorizo" wrong all the time!.
"With smashed chickpeas, peppery rocket and fresh chilli, this chorizo sandwich has some serious bite."
Ingredients
4 tomatoes , deseeded and diced
1 fresh red chilli , deseeded and finely sliced
extra virgin olive oil
410 g jar chickpeas , drained and rinsed
½ lemon , finely grated zest and juice of
3 medium-size iberico chorizo sausages
4 bread rolls or bocadillos
1 handful wild rocket
Method
Mix the tomatoes with most of the chilli and a lug of oil, then season with a pinch of salt.
Heat a saucepan until medium-hot, then tip in the chickpeas. Stir until they're warmed through, then season with salt, pepper, the lemon zest and juice and a lug of olive oil. Whiz in a food processor or mash well until smooth. Stir in the tomato mixture and put to one side.
Heat a griddle pan until hot. Slice the chorizo on the diagonal, about 5mm thick. Griddle the chorizo until heated through and charred around the edges – about 3–5 minutes.
Split the rolls and fill with the chickpea mixture, grilled chorizo, rocket leaves and the remaining chilli slices.
 Tell us what you think 🙂