The recipe came from a time of need that gave the Spanish people all those great pauper food recipes – a simple way to make simple ingredients taste great when money is tight.
This "silly egg" recipe is very old, simple and homemade. Invented in the traditional kitchen, but it is tasty and easy. In addition this recipe has a few little extras, although original recipe does not usually include them.
The recipe uses stale bread, which is seasoned with garlic and parsley, in addition to some beaten eggs. We had always thought it was a typically Andalusian recipe, but the Internet has shown us that the dish is always prepared throughout Spain.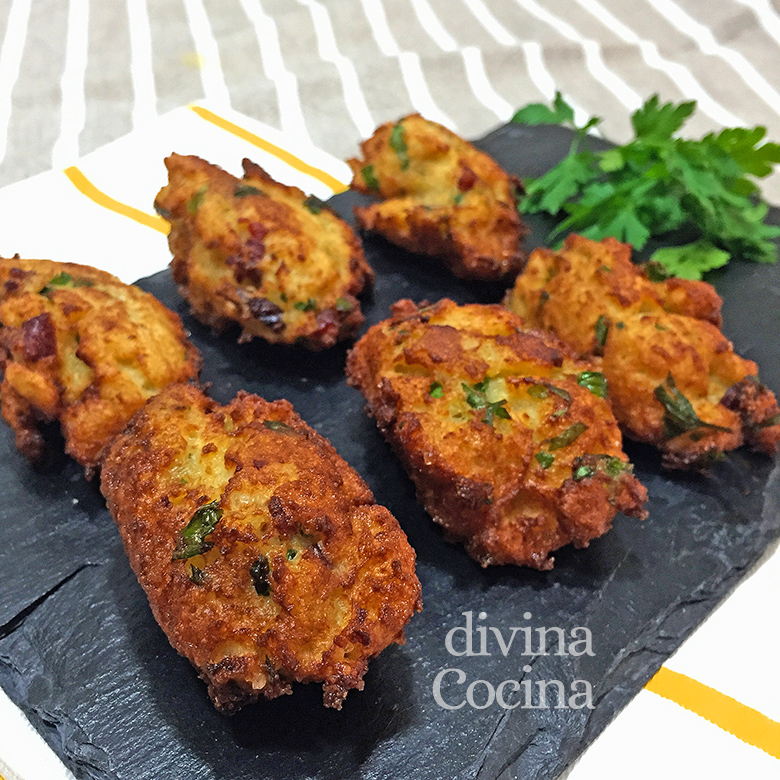 Ingredients ( 12 portions)
200 grams of stale bread – crusts removed beforehand.
2 eggs – lightly whisked
2 garlic cloves – peeled and crushed
1/2 level teaspoon of parsley – fresh or dried
70ml milk
oil for frying
salt and pepper to taste
Optional: Taquitos of cooked or cured ham, well-drained tuna, pieces of cooked chicken, or finely chopped previously cooked sausage or bacon tacos.
Cooking Method
Crumble the bread and mix it with the milk so that it absorbs the liquid well. Mix with a fork so that the bread becomes almost a puree.
Add the parsley and the garlic and mix well.
Add the eggs and mix until you have a compact dough.
Finally add the ham taquitos or the 'stuffing' ingredient to taste.
Heat a generous amount of oil in a pan. When it is hot, take portions of dough with a spoon and place in the oil, (like fitters). Not too big as they do swell.
Fry until golden brown – turning regularly. They need to be crispy and golden on the outside but just set on the inside – so don't have the oil too hot or the inside won't cook properly.
We leave on paper towels to absorb excess oil and serve hot .