A DAY NOT TO BE MISSED – FOOD, DRINK, ENTERTAINMENT AND A WONDERFUL DISPLAY OF BEAUTIFUL, POWERFUL AND CLASSIC MACHINES!
In 2016 Javea experienced a devastating fire and all the local rescue services including voluntary services, the Red Cross, concerned citizens and Javea Connect members came to the rescue.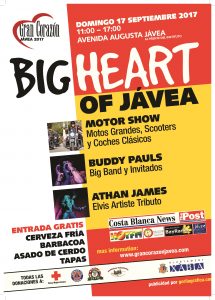 In recognition of their tireless and unselfish commitment to saving Javea from what could have been total disaster for local residents the event know known as "The Grand Corazon, The Big Heart of Javea."2016 was born. This allowed local residents to display their gratitude raising money for the ill equipped volunteers.
The event was the brainchild of local resident John Le Sueur who was helped by many local businesses, sponsors, classic car and motorcycle clubs and residents with the support of the Mayor.   The event was a great success and well supported with over 4000 people  attending and Grand Corazon raised 8000 euros for the local voluntary services.
The success of Grand Corazon motivated everyone involved to make Grand Corazon an annual event so we hope to see you at the 2017 event, which is on September 17th.
Here is a link to last year's event including a video of the day made by local photographer Paul Cruse 
More information will follow shortly