SO ARE WE SITTING COMFORTABLY?
Then I will begin………….
Once upon a time, on a really hot day in September 2016, a wicked fire- breathing dragon descended upon the mountains in the fair land of Javea. There were many brave townsfolk who volunteered to help the Emergency Services to fight and slay this devil and who worked tirelessly for days and nights to tame and finally kill the beast.
The townsfolk were jubilant at the victory and the solidarity of the people was indeed a sight to behold. People came from far and wide to help replenish the coffers and much merriment ( ales, feasts and madrigals) ensued.
Now during this time, a knight from a land far, far away, ( even further than Ondara!) was formulating his plan to bring to the "Javeans" a splendid show to further boost the depleting coffers, entertain the troops and show to the good people of the land, many shiny steeds of magnificent horsepower!
This man was John Le Sueur. He and many other knights congregated regularly around the Square Table of Montgolot. Discussion took place with local Town Criers, Scribes, Inn-keepers, Artists and Blues-Minstrels until finally the plan came to fruition.
And thus the Big Heart of Javea event was born and took place on 23rd October. The villagers, townsfolk and visitors from lands far-far away, descended upon Javea in their thousands, both to display their trusty steeds and to support the brave volunteer organisations of the emergency services.
The Squires of the town were so impressed with the revelries of the day that they asked Lord John of Mongolot to stage another spectacular show this year. Needless to say, he willingly picked up the gauntlet and gathered his Knights ( and Knight-dresses) of the Square Table who are planning a bigger and even more grand event on 17th September.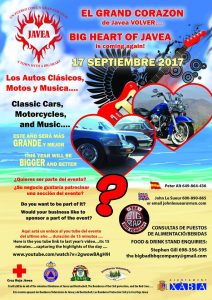 Full details of The Big Heart of Javea 2017, will be released very soon, so listen out for the Javea Town-Crier in your area and whatever you so, don't miss this brilliant day!!
Click the link below to watch the short version video of the 2016 show was filmed by Paul Cruse last year…….