Beaches are great, but in summer they can become a nightmare with so many people and little space to park. So, if you want to escape from the big beach crowds, you can go to one of the many natural pools that are distributed throughout the Valencian province. These are probably the best you can find.
1. El Azud – Well of Stairs – Tuéjar
In the Valle del Tuéjar, in the region of Los Serranos, we have this beautiful pool in the middle of nature. Also, if you go up a bit, you will find a small space where the waters have formed a small lake . It also has a picnic area to spend all day soaking up the sun. ( Approx 2 hours by car from Javea)
2. Bugarra Fluvial Beach
Near this town the Túria (in its initial stretch, called Guadalaviar) creates a series of landscapes and basins where you can bathe really beautiful. The waters are clean and crystal clear. Yes, take some good flip flops because you can stick the stones in your feet. ( Approx. 1 hour 45 mins. from Javea)
3. Charcos de Quesa
In the south of the province we have Los Charcos de Quesa, a succession of pools where you can disperse and enjoy nature. Waterfalls and natural gorgos abound by a photography site. ( Approx 2 hours from Javea)
More information here
4. El Gruñidor – Sot de Chera
This natural pool is in the natural park of Sot de Chera . It is surrounded by mountains and forests and also has a couple of historical monuments of great value, such as its castle or the Hermitage of San Roque. Nearby you will also find the Toscas, a unique spring of rocks and waterfalls. It is the one that appears in the photo.
5. Parajes del Río Sellent
Next to Bolbaite runs the river Sellent, and in its way leaves a perfect natural pool to spend the day with friends or family . It is also a good area to do some hiking.
6. The Gorgo of Anna's Ladder
Everyone knows Anna for its lake and lagoon, but what not everyone knows is that it also has one of the most idyllic natural pools in the Region. When we arrive at Anna, only 136 steps separate us from cold, crystal clear waters. Do you dare to try it?
7. Vallada
La Saraella de Vallada and its natural saltwater pool is unique. You will find it next to the beautiful place of the Hermitages and it is an ideal area to make a hiking route and eat in one of its picnic areas.
8.Oliva
The Natural Place of the Font Salada de Oliva is located on an underground spring of thermal waters. That means that here you can bathe both in summer and in winter at an average temperature of 23 degrees Celsius.
9.Pedralba
The Turia has many swimming areas , ideal for the hot summer of Valencia. One of the best is known as "La playeta" in Pedralba. It is a small lake, not very deep, with crystal clear waters.
10. La Fuente de los Baños – Montanejos.
Valencian natural hot springs have beneficial health properties as well as being a perfect destination to spend the day.
The Fuente de los Baños is one of the main tourist attractions in the town of Montanejos , in the Alto Miajares region in Castellón. This natural area is a unique enclave of thermal water with mineral-medicinal properties and an interesting history of more than 200 years related to health and well-being.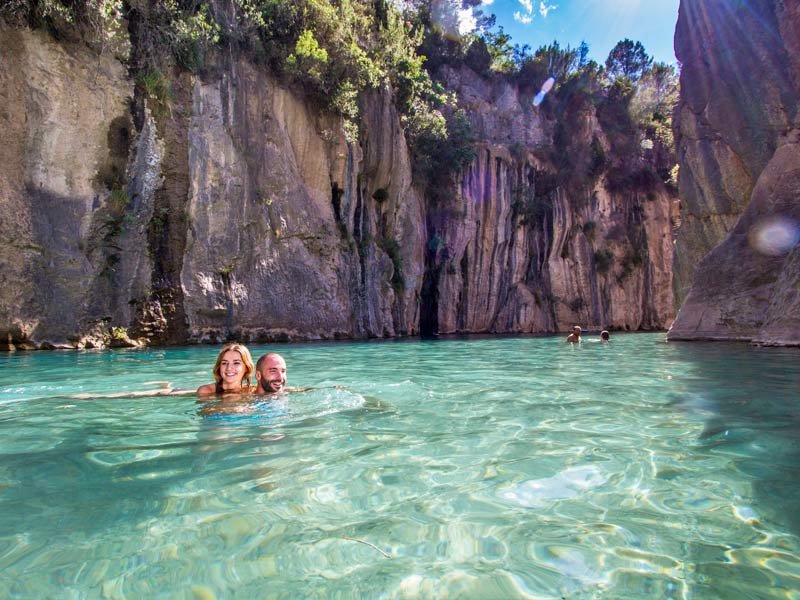 11. Hervideros Springs – A "hotspot" lying on the dormant volcano of Valencia.
The waters of the spring seem to be constantly boiling because of the volcano – but in reality its temperature is cool!
In Valencia province, lies Cofrentes , a town full of surprises.
Firstly, there are the waters of Hervideros Spring , which gave birth to the Cofrentes Spa , thus becoming a tourist attraction. In addition, it has a totally unique phenomenon, namely, the dormant volcano of Cerro de Agras . Click the article below to read more…