This, believe it or not, is the tenth anniversary of our "beloved" Portal de la Marina Shopping Centre and yesterday (17th May) works began for a Mall Mega-Face-Lift!
The mall has more than 4 million visitors per year ( many of whom still don't know when it is open 😉  and soon the new look local shopaholics paradise will have a few improvements.
Carlos Fita, director of the Shopping Centre, explained that this reform project demonstrates the "clear, definitive and decisive commitment of the owners, The Lar group".
Fita has stated that "It is not a small reform, neither easy nor quick; but an important " washing of face",  and a whole new image of the centre. With an investment of 3'2 million euros, when finished you can appreciate a change of image, amplitude and comfort for visitors."
The main improvements are:
Improvement of pedestrian access to the centre, giving it a "Mediterranean Balcony", with plants and a garden area, plus a new 20 metre high entrance porch. Like this….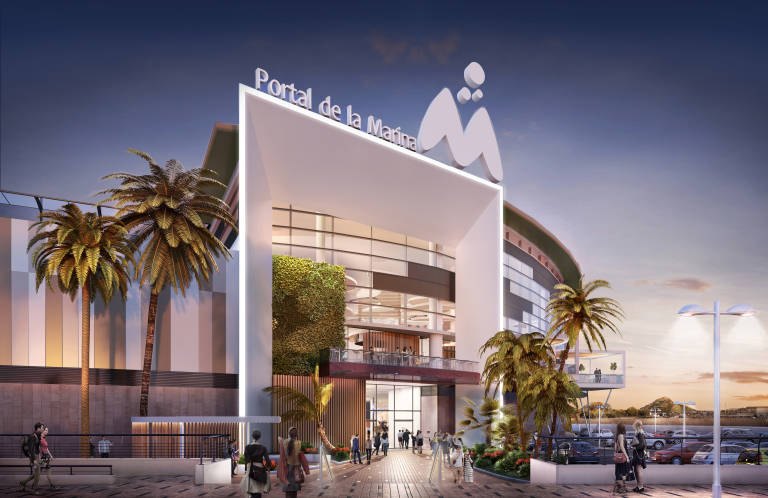 Redesign and style of the areas of the walkways, along with redecoration of the  restroom areas.
 Installation of LED screens (NBA type), a new children's area, and new furniture.
 Extension of the terraces , with a more modern and fun image.
Removal of the escalators which will be replaced by two automatic staircases in the middle of the corridor on the ground floor.
Installation of an interior panoramic lift.
The intention is that the shopping center is also a "meeting zone" , as Fita has pointed out.
The works are divided into two phases.
The first will last until the end of June/beginning of July. During the main summer months work stop and resume, in a second phase, starting in September, with the intention of ending before the Christmas season starts .
Fita explained that the bulk of the work will be done at night, to minimize the inconvenience to customers during the opening hours of the shopping centre.
We will conclude with the calendar for 2018 as always  😀