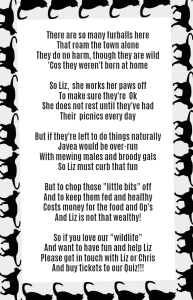 On Thursday 31st May, The Bull and Bear Benitachell are hosting a special quiz night to help support Liz Trafford and the Javea Feral Cat Association.
The tickets are 20.00€ per person (for a 2 course meal and entry to the quiz)  of which 10.00€ per ticket will be donated to the charity. (Menu below)
It will be a fun quiz, with prizes for first and second places, spot prizes and even chocolates of you come in last  😀  Hosted by Loraine of Javea Connect and ably assisted by Big Rob and the event organiser ( the Cat-Woman of the Cumbre!)  😉 
Call the Bull and Bear to book on 966 49 41 43
Raffle tickets will be sold on the night and if you can't make it, you can buy them from any one of the following outlets from the 16th May. 
Debbie at Cafe Cortado in Javea Port   Link to Map
Claire at Mr Punch in Javea Park ( Near Humpty Dumpty)
Nicola at Heaven, Inn on the Green  Link to Map
And now here are just a few of the prizes that will be there for the lucky raffle winners on the night. 
MENU
Choice of:
Classic Coq au vin with rock salted and olive oil baked potatoes
Mexican style braised steak with rice and cheesy tortilla chips
North Atlantic cod gratin with parsley buttered new potatoes.
All served with a selection of fresh vegetables.
Vegetarian/Vegan food option: Roasted Aubergine stuffed with roasted Mediterranean vegetables & couscous with tomato sauce & side salad
Dessert choice of: Golden Syrup pudding and custard OR Strawberries and Ice Cream.