Some suggestions of where to visit if the weather isn't being kind.
City of Arts and Science – Valencia                              
The City of Arts and Sciences in Valencia is a unique complex made of five main elements each devoted to demonstrating a specific area of interest.
The areas include: The Hemisferic – IMAX cinema and digital projections, The Umbracle – A landscaped vantage point and car park, The Science Museum – an innovative centre of interative science, The Oceanografic – the largest aquarium in Europe and The Palau de les arts reina sofia – an operatic programme and multifunctional space.
The centre boasts stunning architecture and offers an endless capacity for entertaining and stimulating the minds of its visitors young and old.
Pricing Range: Various depending on attraction visited – consult website for prices
Target Age Range: All age groups welcome
Address:  Av. del Professor López Piñero, 7, 46013 València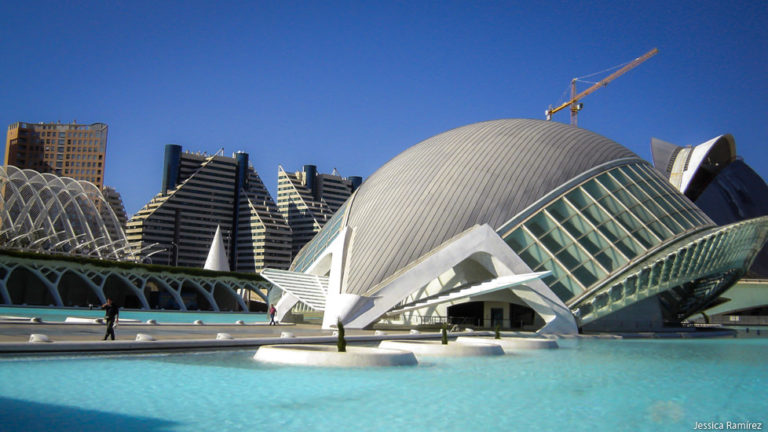 OZONE Bowling & Arcade Benidorm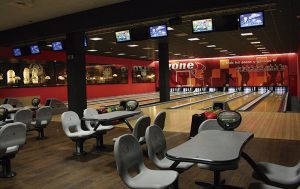 OZONE Benidorm provides an air conditioned high quality venue for those looking to break away from the mid day sun or feed their appetites for neon lighted entertainment.
There are 2 floors of arcade machines which include virtual reality games, racing games, shooting games to basketball, air hockey, and plenty of games for younger children.
Many of the younger aged games dispense tickets which can then be exchanged for a variety of prizes.
As well as a quality arcade there is a tenpin bowling alley which is great fun for all the family.
Located on site is a bar and cafe so you can enjoy a cold drink or snack whilst visiting. 
There is no car parking facilities however there are pay and display bays on all surrounding side streets and various car parks located in Benidorm.
Pricing Range: Bowling approx. €4.50 per person. Arcade machines from €1.00
Target Age Range: All ages welcome
Address: Ed. Miramar Playa, Av del Mediterráneo, 22, 03503 Benidorm, Alicante
Merlin Park Alicante                                                        
Merlin Park in Alicante provides 3 floors of inflatable, soft play, ball pit filled fun.  Promoted as a kids birthday party venue it provides a safe area for children to enjoy themselves.  There are daily performances from inhouse characters, magicians and entertainers.
The venue has an large cafeteria for food and drinks.
From Tuesday to Thursday:   From 5:00 pm to 8:30 pm
Friday, Saturday, Sunday (vespers and holidays):   From 5:30 to 9:00 p.m.
June, July, August and September:  Open from 6pm.
Pricing Range: €5.50pp
Target Age Range: Younger children
Address: Carrer Fortuny, 19, 03009 Alacant
Website link             Get Directions Link
Historical Automobile Museum 'Vall De Guadalest'
''A museum of motorcycles, cars and machines from the 1920's to 1970's. Onsite restaurant and car parking/gardens available to visitors.''
If you have an interest in motorbikes, cars or historical machinery then the Vall De Guadalest is worth a visit. Located in the Guadalest Valley between Callosa and Guadalest this museum is home to 25 years of pain-staking restoration work.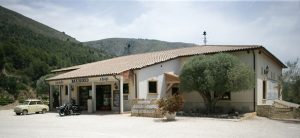 The collection boasts over 100 motorcycles and small cars dated from 1920 to 1970, all restored to perfect condition. In addition to the motorcycles and cars there is also a number of historical machines on display including sewing machines, typewriters, coffe makers, telephones, radios and more.
There is a large car park on site and visitors can also make use of the spacious gardens.
Target Age Range: 6 years plus
Address: Ctra. Callosa–Guadalest, Km 7 (near the restaurant El Riu), Postal Code: 03517
http://www.museovehiculosguadalest.com/
Cueva de las Calaveras (Caves) 
''Cool off with this cave walk, get lost in the gift shop and enjoy ice cream in the cafe whilst the children run around on the play park. Short day trip but worth a visit''
Located in Benidoleig is a magnificent cave system which is open to the public. Arrive at the attraction where there is ample free parking and over-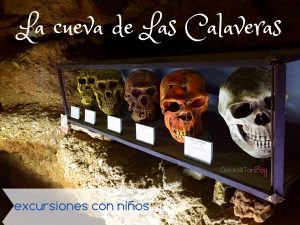 spill road side parking.
Entering through the gift shop to purchase your ticket you are then led up the ramp or steps to the mouth of the cave. A small goldfish pond and prehistoric statues will entertain the young ones whilst you read up on the history of the caves and there inhabitants.
A staircase provides access to a small caved terrace to take in an alternative view of the 60ft high cave entrance.
Follow the cave system through the mountain, various openings make for great photo opportunities and along the way more information (in various languages) is available in written text so that you can learn about the caves.
The route path is made of wooden planks and lighting is throughout the caves. At the end of the walk you can view the water well the head back through the caves to the gift shop.
The gift shop is well stocked for those interested in fossil collecting, geodes and similar. Attached is a small traditional Spanish tapas bar/cafe with cold drinks, beer, ice cream, sandwiches and tapas available. Outside is a large seating area and a children's play park.
Expect the cave walk to last around 30 minutes depending how fast you walk!
Pricing Range: 0-4yrs FREE, Children €2.00, Adults €3.90
Target Age Range: All age groups. (Fully accessible for pushchairs)
Address: Carretera Benidoleig – Pedreguer, s/n, 03759 Benidoleig, Alicante
Link to a further review and photos on Javea Connect
Valor Chocolate Factory – Museum
The Valor chocolate museum opened its doors in 1998 in order to raise peoples awareness of how this rich chocolate is made.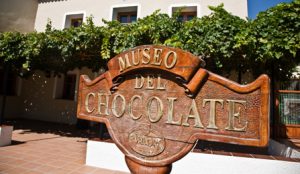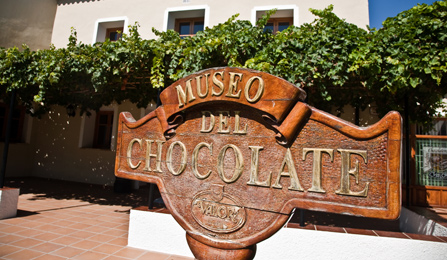 Visitors will learn about the Valor chocolate heritage, its upkeep and research work. The museum houses some of the best collections of machinery used in the chocolate making world.
Chocolate lovers dream, come and see how Valor chocolate is made. This is a 45 minute tour. No parking is available on site. The tour is comprised of an audiovisual presentation, a walk through the museum and chocolate tasting in the gift shop.
Pricing Range: FREE
Target Age Range: Suited to older children 6+
Address: Avinguda Pianista Gonzalo Soriano, 13, 03570 La Vila Joiosa, Alacant
Museo del Turron – Turron Museum
The Turron museum is dedicated to preserving the technological heritage that relates to the production of Turron and marzipan. 


The museum is split over three floors and displays machinery and equipment which was traditionally used in the production of Turron.
Visits to the museum include a guided tour around the modern production plant (only July – November which is production season) where you can watch the Turron being made.
The tour finishes in the gift shop where visitors can taste the Turron products and of course purchase goods to take home.
Pricing Range: Children, Seniors and Students €0.50, Adults €1.50 (Double fee high season)
Target Age Range: Ages 6+ advised
Address: Edificio Museo del Turrón, Polígono Industrial Espartal II, 03100 Xixona, Alicante
Festilandia Park – Benidorm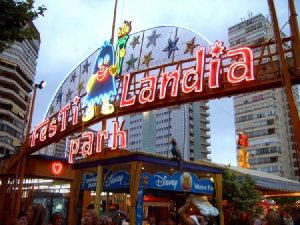 A recreational fun park for children offering a range of smaller rides for young children and a jam packed arcade room for all ages.
There is a mini golf course available.
Pricing Range: Free Entry – Various prices for machines/rides
Target Age Range: Younger children/Young Teens
Address: Av. del Mediterráneo, 20, 03503 Benidorm, Alicante
Chocolates Marcos Tonda Shop & Museum 
Marcos Tonda is a chocolate brand from Villajoyosa started in 1793.  In 2015 the company renovated its facilities and provides a speciality chocolate shop and museum dedicated to past chocolate production.  Traditional machinery and chocolate making equipment is on show here.
Come and explore the creation of chocolate and enjoy their tasting area, where you can also purchase a range of chocolate gifts and treats.
Target Age Range: Older children/Teenagers/Adults
Address: Nave 2, Polígono Industrial Torres, Carretera de Alicante km 140, 03570 La Vila Joiosa, Alicante  
http://www.chocolatesmarco           Get Directions Link
Desafio Medieval – Dinner Show 
Immerse yourself in an evening of medieval themed fun and food as your host Robin Hood transports you back in time for a spectacular show not to be missed.
Arrive at the purpose built castle gates where entry includes a medieval themes dinner and drinks, a 90 minute show (without intermission) which includes jousting, sword fighting, horse riding, tournaments and more.  A show commentary is in English and Spanish.
The show is held in a covered and air conditioned room, wheelchair access is available.  No camera or recording is allowed.  Prior booking is required.
Target Age Range: All welcome
Address: Camino Viejo de Altea, S/N, 03581 L'Albir, Alicante
Website  Link       Get Directions Link
Oceanographic -The Largest Aquarium in Europe
Located in the Avant-Garde architectural complex of the City of Arts and Sciences in València, the aquarium is a true tribute to the seas and oceans of the planet and contains large aquariums which reproduce the most important and amazing marine ecosystems.
Oceanogràfic Valencia is certainly a first-rate scientific, educational and recreational centre.
A whole sea of sensations which can spark your imagination.