News via Xabia-al-Dia
The first two chiringuitos are in the assembly phase in their respective spaces on the Paseo del Montañar. Along with them, other seasonal services have started installations, including the sunbeds and umbrellas on La Grava beach.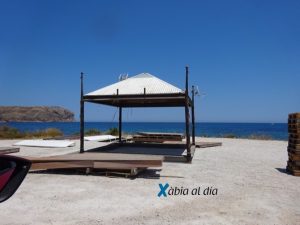 Gradually the seasonal chiringuitos linked to the beach and the hotel industry will appear in their usual locations. Yesterday, the assembly of the first two beach bars began  next to the Parador and next to C/Florence). These two businesses have the same owners as last year, therefore, the assembly will be much faster.
Not so for the rest of chiringuitos, the new businesses will have to wait to have them built. Some of them will not be able to open until the middle of July.
Other services are also in the assembly phase, such as the windsurfing area next to the mouth of the river Gorgos, as well as the sunbeds and parasols, although so far they have only been spotted at La Grava beach but nothing as yet on the Arenal.