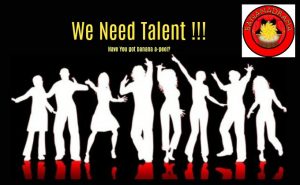 OK!! so can you warble or croon a tad ?  Can you jiggle it?…. just a little bit?
Can you pretend you are someone else for a few hours? Or do you maybe have some backstage/makeup/carpentry/dressmaking skills?
Or, can you just plain sing, act and/or dance and have commitment, a sense of humour and community spirit?
Would you like to join a group of others who like to learn a few lines, tone up their vocal cords and strut their stuff in aid of charity? If so, then we would really like to meet you on 8th July
Bananadrama are a new, but properly associated amateur drama group, performing just for fun and to raise a little money for local worthy causes and we need more people like us to join our next musical comedy production. 
A few out-takes from rehearsals  😉 
So if you tick these boxes and are available for audition in Javea on 8th July at 3pm and are also able to attend rehearsals on Saturday afternoons, then we would love to meet you.
Please get in touch by private message via our Facebook page at Bananadrama or email via Javea Connect at [email protected]. leaving some information about yourself and a contact phone number.