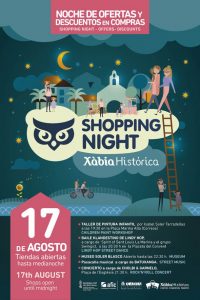 This coming Friday, August 17, the shops of Xàbia Historica will offer discounts at the second Shopping Night of the summer. All open until midnight.
In addition, there will be other activities in the streets and squares which have been organised by the Association of merchants.
Offers and discounts can be found in more than 30 stores, as well as the best gastronomic offer in bars and restaurants.
Starting at 7 pm and ranging from children's painting workshops, Lindy Hop dance with the Spirit group of Sant Louis, live rock with Cholbi & Garnelo and a Batuchanga parade. 
The Museu Soler Blasco will be open until 22:30 hours.