Four years ago we hosted a Masked Ball and it was a brilliant night and so we thought we should try a repeat performance in the hope that we can get some of our members to actually remove themselves from their online gadgets and meet each other for a night.
So… we can all come and hide behind our masks for a while and it will be rather fun to see who recognises who. We are also hoping that not too many will go and order troll masks for the night!! 😉
We have a fantastic line-up of entertainment for you and everyone on stage that night is doing it totally free of charge in order that all the proceeds go to charity.
Adam Daniels
Starting off the night in his own unique way, is Adam Daniels who, if you do not know already, is one hell of a talented Essex lad who will, from behind his mask, tinkle the ivories, strum the guitar, pucker up and blow the harmonica and sing ….. not all at the same time…. he isn't that clever… yet!
Festive Frolics
Taking the stage after that, we will be introducing an amusing and musical, satirical short show by JC Admin and the some of the cast of Bananadrama who will present a few of the highlights of their previous show.
Ian Hunt
Following the Frolicking ( for those who stay 😉 ) is the one and only Ian Hunt who, with his fantastic voice and amazing stage presence, will undoubtedly have everyone singing along and filling the dance floor in an array of masked merry-makers.
DJ Gary Miller
As soon as Gary heard about our shenanigans, Gary offered to come and DJ for us to end the night by playing the songs you want to hear. If it is up to me, then it will be all Christmas songs…. but I am sure that my fellow organisers and humbugs will intervene there!!!
So, all this, plus a gastronomical buffet which will be prepared for you by the team at SeeMontgo can be yours for €20.00 per head.
As it is so difficult to choose a charity to benefit from the proceeds, we have decided that every guest should have a vote and we will have a neutral "counter" at the end of the night. You will be asked to vote by writing the name of a legally registered charity on the back of your ticket, which will be collected upon arrival. Just one other request (although not compulsory)…. as it is Christmas, if you can, please bring with you a toy. These will then be shared between Todos Juntos and the Preventorio in Gandia.
Tickets can be reserved now by email to us at [email protected] and when ready for collection, you will be able to collect from any one of these lovely, helpful businesses:-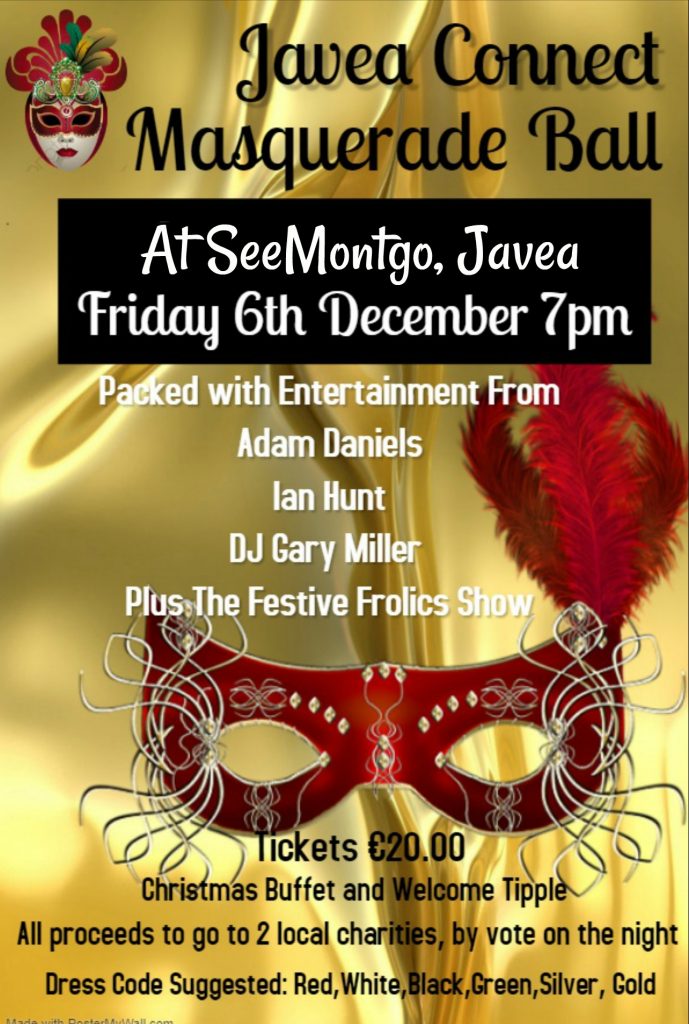 So….. let's get this party started shall we?