CONNECT AND WIN!
Due to the incredible generosity of local people and businesses, Javea Connect has been able to run a free to enter weekly competition. 
Hannah and Loraine, 2 of the admins of the group, produce a weekly radio show entitled "Totally Connected" on a local community station Total Fm 91.8 every Saturday afternoon between 1.pm and 3.pm, and it is here that the prizes are drawn by  "computer randomness" at around 3pm.
To give you all an idea of how it works and how you can enter ( presently only on the group, but shortly also on this site) Here is an example of how the competition runs.  Look in every Friday on J.C. group to add your entry 
FREE JAVEA CONNECT- TOTALLY CONNECTED SHOW COMPETITION. NO STRINGS ATTACHED
THIS WEEK THE THEME IS "SHINY THINGS"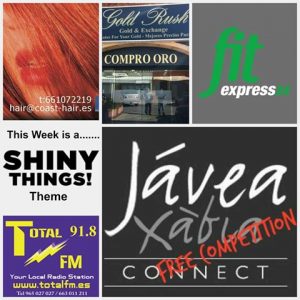 Name a song, group, singer with a "blingy" connection.
So, you all must now know the way this works, you have ONE SHOT per person and on Saturday, when Hannah and I take over in Total Towers, our trusty random website picks 2 lucky winners which is recorded live on JC. Listen in from 1pm at Total FM 91.8 or www.totalfm.es .
As usual we have 3 prizes on offer, 2 of which will be won on Saturday…..
1) Haircut/restyle and finish from Linda Macfarlane of Coast-Hair in Denia.
2) 6 months all inclusive membership to Fit Express in Ondara
donated by Naomi Jane McKay
3. And 2 ounces of fine silver investmenet bars donated by Mr Midas Tarick of Gold Rush Javea ( Photo will be put on comments shortly)
Thanks so much again to all our 3 sponsors this week. xxxxx
AND GO………………………….