The Balcon al Mar Voluntarios (previously the ISVH Bomberos) have received a donation of over 4000€ from Pat McCue, Joe, Micky and the Salamandra Charity Shop. The donation was used to buy helmets, torches, goggles and smoke masks which are part of the new light weight forestal fire fighting equipment they have purchased this year.
The Voluntarios thanked Pat and her team for this donation and also for the donations she has raised in the past to buy equipment for them, for which they are extremely grateful.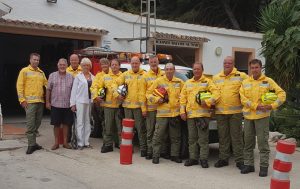 They have also recently purchased two new vehicles which should be brought into service in the next few weeks. These vehicles along with other equipment like hoses, radios, pistols and the rest of the light weight uniform have been purchased mainly with the many donations that followed the disastrous fires of last September.
The Balcon al Mar Voluntarios would like to thank everyone who has donated and supported them. It is greatly appreciated and has allowed them to buy equipment that will help improve their fire fighting capabilities and hopefully provide the wonderful people of Jávea with the quality of service they deserve and can be proud of.
Thank you!
More information on the work of the BAM Volunarios,  plus a video-diary of the fires of 2016 here