This week we have a guest gourmet standing in for Alexis 🙂  while we wait for his/her(?) next article at the end of this week. May I introduce Ms Sal Tonpepper!
We asked Sal (a member of Javea Connect) to put on a mask, wig and dark glasses 😉 and visit any restaurant in Javea and to give us an honest opinion of the chosen venue. Sal has obliged and chose to go to La Cocina, a restaurant that has been opened since 2008 and, I must admit, I have heard nothing but good reports about it ever since. So let's read on and see what "Sal" has to say…..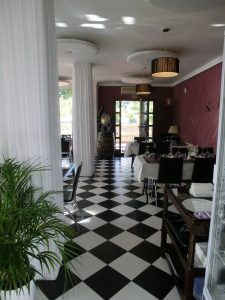 "Had a great meal last night at La Cocina. The menu was really exciting, and different to any other restaurant, it was an Asian Fusion menu with some really interesting dishes and the 2 course menu was 16.50€.
The service was excellent and the staff were very friendly without being too pushy, we were able to relax and enjoy the meal without feeling we were being rushed.
The most interesting fact was that they do a Vegan menu as well. It is always difficult taking out friends who are Vegetarian and Vegan, in fact the Vegan menu looked so good we actually had a couple of dishes from it which were delicious. Normally if you have Vegan friends it is impossible to find a restaurant that you can all go to together, look no more, this is the place!"
La Cocina can be found at Avenida Lepanto, 2 in the port.    Tel: 965 79 51 40    
Live music also on some evenings. take a look at their Facebook page 
Current Menu:
Vegan Menu
2 Course Lunch – Evening Menu
Starters Vegan
Pepper spiced falafels, lettuce tacos, tomiolli, creamy avocado & lime, sesame seeds
Onion bhaji, coronation dressing slaw, tomiolli, romaine lettuce, pickled sultanas
Potato rosti, romaine, Greek walnut skordalia, home pickles, lemon dressing
Avocado salad, soy sauce & muscovado dressing
Starters Vegetarian
Cheese soufflé La Cocina
Baked goats cheese & brie, Amsterdam onion & beetroot relish
Mains Vegan
black pepper sauce, vegetables, beans, lentils
Moroccan spiced beans & apricot, muscatel & ras al hanout sauce
Cambodian curry with wok vegetables, lemongrass, coconut milk, basil, lime, fennel, ginger
Goan lentil masala, delicately spiced, coconut, tamarind, coriander
Blackened cajun spiced cauliflower steak, mango & chilli sauce, pickled sultanas, coconut flakes
16.50 Euros
Desserts Vegan
Apple, plum & raspberry crumble served warm with ice cream – 5€
Vanilla ice cream, drunken raisins – 5€ GF
Pear poached in moscatel with caramelised nuts & chocolate soil – 5€ – GF
Free From Gluten, Additives & Low In Salt
Our Fixed Price Menu Gluten Free
2 Course Lunch – Evening Menu
Starters
Taiwanese pepper meatballs, lettuce tacos, avocado & lime sauce, sesame seeds
Pepper spiced falafels, lettuce tacos, tomiolli, creamy avocado & lime, sesame seeds
Onion bhaji, chicken coronation, tomiolli, lettuce
Cheese soufflé La Cocina
Risotto, chorizo, asparagus, parmesan
Baked goats cheese & brie, Amsterdam onion & beetroot relish
Pate La Cocina, home pickles, relish
Louisiana style prawn cocktail
Swedish potato pancake, Greek walnut skordalia, peeled prawns, lemon dressing
Avocado salad, soy, muscovado dressing
Mains
Moroccan spiced beans with apricot, muscatel & ras al hanout sauce
Prawn curry, subtly spiced from southern India, coconut & kokum – Plus 1€
Seafood gratin, white fish, prawns, spinach & white wine sauce
Sea bream fillet, Thai lime, coriander & ginger sauce – Plus 1€
Sea bream fillet, Cambodian curry sauce – Plus 1€
Goan lentil masala, delicately spiced, coconut, tamarind, coriander
Chicken breast, Cambodian curry sauce, coconut milk, lemongrass, ginger, lime, basil
Blackened cajun chicken, mango sauce
Moorish lamb, apricot & ras el hanout sauce – Plus 8€
Braised pork secreto, prawns, romesco sauce, honey & vinegar glazed chorizo, crispy onions
Steak strips in Taiwanese pepper sauce, oyster sauce, sriracha, soy
Beef & rioja pie, puff pastry (not gluten free)
Fillet steak (served pink), aged vinegar & sherry sauce – Plus 9€
16.50 Euros
Free From Gluten – Ask for our Vegan Menu
Opening Hours: Tuesday to Friday 12.30pm to 3pm – Tuesday to Saturday 7pm to finish
Restaurante La Cocina 965 795 140