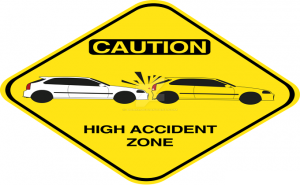 The two stretches of the N-332 between Benidorm and Benissa and between Verger-Gandia have now entered the category of high risk accidents, according to a study by EuroRAP, which analyses Europrean accident rates.
Among the negative factors are the excessive traffic intensity, dangerous crossings or pure density of traffic, especially during the summer.
It is the best argument in favor of the AP-7 becoming toll-free in 2020 and running of the Dénia-Gandia train.
There were 4 serious/fatal accidents on these two stretches within 2 years, including the loss of 3 lives in Oliva last year which had not been included in the last report.
The  EuroRAP report was completed with data provided by two experts in the field of Spain: the Real Club Automóvil (RACE) and the Real Club Automó
Please drive carefully EVERYWHERE!!!
A more detailed report can be found here in la Marina Plaza