In the run up to Halloween, we thought we would have a series of some spooky buildings and their stories.
#1 THE SANITORIUM OF TORREMANZANAS:
There is an old anti-tuberculosis sanatorium  located in the municipality of Torremanzanas, a small town in the the province of Alicante. The sanatorium itself is situated in the Sierra de Rentonar at an altitude of 965m and was built in 1926 by the Compade Jesús religious community.
Originally it was used as a rest home, later as a Children's Holiday Colony and then a Military Hospital during the Civil War.  When the war ended, it was used as "Sanantorio Antituberculoso" until 1963. In the sixties, when tuberculosis had been completely eradicated in Spain, the facilities were abandoned.
In 1999, the Provincial Institution acquired the sanatorium for €96,161  with the aim of using it as a tourist establishment.
It is a construction divided into two floors, with a total area of ​​97,694 m2. Over the years the acts of vandalism that the building has endured have caused both the roof and some of the walls to collapse. It is now impossible to access the upper floor due to the absence of stairs, and inside the building most of the rooms are in a sorry state. The red room, which was used for the development of X-rays of the internal patients, can still be seen from the patio.
The building is abandoned and waiting to future plans.  It has been said that it will be restored and destined for interior tourism as a hotel or hostel.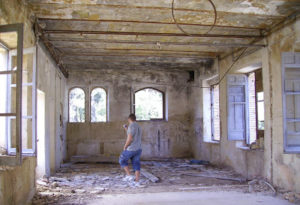 In this room, detectors were installed by a team from Enigmasy Lugares Misteriosos. They reported that these detectors "jumped" even when they were in another nearby room, placing other units. Keep in mind that they were high, so the possibility that it was a rat or another animal is minimal.
Late at night, just at the end of the same room, where the detectors had jumped, the team reported "Jaime and I,  in an audio test that we were doing with David (while he had helmets on) recording with the digital recorder, we heard as something went through one of the entrances to the room that was a couple of metres from us, and at the time, David heard a "Umm" with headphones, which was recorded in the recording.
In 2012, due to the poor state of the building they demolished the upper floor to avoid any incident that could cause damage to the people who visit it.
Map in case you wish to visit!