A shark landed on Monday in the waters of El Puig (a little north of Valencia) for a few minutes, but long enough to amaze the few bathers who witnessed the moment.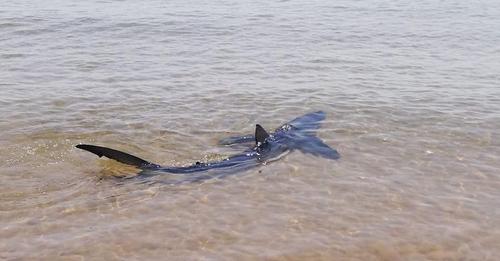 "We never, ever thought that something similar was going to happen," explains Antonella, an Italian who has been spending the summer in El Puig de Santa Maria for 15 years.  The visit of what appears to be a thresher shark, was fleeting – as described by Levante-EMV.
The amazing animal surprised the few bathers who on Monday, around 12:45, were enjoying bathing in the town of l'Horta. Antonella was accompanied by her family and a friend who is visiting the Region these days and who will return to Italy with the memory of having shared a bath with a shark almost two metres long. "My friend was in the water, next to the shark," she says before admitting that she "got scared and ran" out of the water when she spotted her companion!
"In the 15 years that we have been living here we have never seen anything like this," says Antonella, who considers the sighting "a beautiful but dangerous event." According to the witness's account, the shark tried to get closer to the shore but when "seeing that it could not get any closer, it turned around, approached the rocks and then went to the open sea."
A quick visit without a trace
 The fleeting nature of the visit, the initial fright, the subsequent curiosity and the low presence of bathers seems to explain the scant trace left by the blue shark on her visit to the Valencian coast.