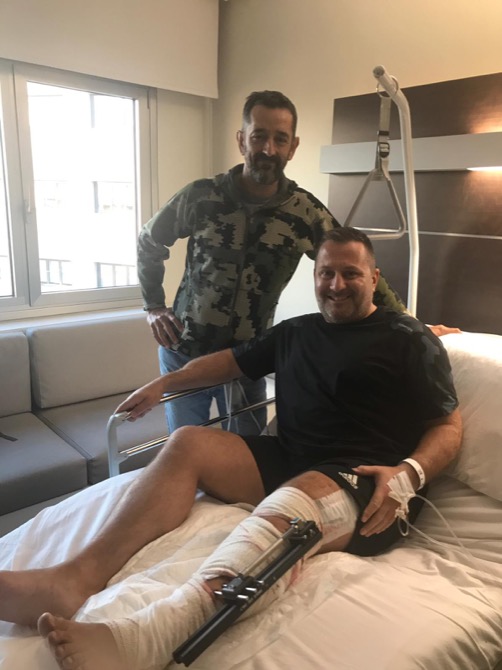 With another one of our local community, Luke Thomas, being severely injured and hospitalised recently by an unlicenced driver, we do, at least have some hopeful news for Scott, who was mowed down over 2 years ago by a reckless driver, whilst cycling with his club
Scott Gordon is still recovering at his Javea home, from the 14th operation he has undergone in the past two and a half years, nine having been performed in Denia hospital, one by Maxiofacial in Valencia and four under Dr. Cavadas, a specialist in microsurgery.
The latest operation took place on September 30th. It consisted of two different procedures known as "left knee arthroplasty and 'left tibial bone distraction." The latter, as he explained to XAD, has consisted of the "controlled rupture of his tibia and fibula" to secure them with an external fixator. In this way, this fixator will "adjust every day to stretch the bones as they come together".
This intervention will allow Scott to try to recover the length in one of his legs, that had been lost due to all the operations he had to undergo after the fatal accident of May 2017. His left leg is 57 millimeters shorter than his right leg.
From now on "1 millimetre will be stretched daily", with the help of the fixative. Something that Dr. Cavados said should be done during the next six months. Once this period is over, both legs "will hopefully be the same length".
For the moment, Scott is in a lot of pain, which has prevented him from even leaving home.
Both Scott and his family obviously hope that this will be the final surgery and that the operation is a success but it will still be several months until the result of this latest procedure is known for sure.
Scott stressed that it has been "a very long battle" and since the accident, he and his family have suffered through some very difficult times. But they ( and we also) hope that this could be the final hurdle he has to jump before recovering his life and perhaps returning to some normality, but there are no guarantees he will be able to return to his former life and previous employment in the Oil Industry. . Unfortunately, at this point in time, it still remains to be seen as to whether Scott will have to return, yet again to the operating table.
Once again Scott..all of us at JC wish you a very speedy recovery on this continuing very long and winding road.