MESSAGE FROM PAMA…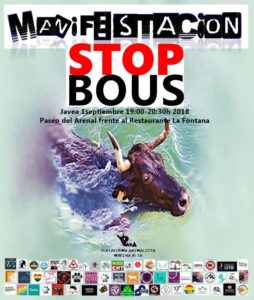 "The PAMA (Marine Alta Animalist Platform) has gathered more than 40 animal rights entities to protest against the bous al carrer and bous to the Javea Sea on September 1 from 19.00 to 20.30.
The demonstration will take place on the Paseo del Arenal in front of La Fontana restaurant, during which a Manifesto of the Marina Alta Animalist Platform will be read.

It is an abuse against these animals to allow them to continue to be used in celebrating the bous al carrer and the bous al mar, CONSIDERADO ILLEGAL. Knowing that the transfer of these animals under the unbearable heat of summer causes them enormous suffering and stress due to fear of panic and arrhythmias, heart attacks that cause deaths.
It is hypocrisy that the penal code itself makes distinctions between those who cruelly mistreat animals in unauthorized shows and those who cruelly mistreat animals in authorized shows. There must be no authorization to carry out any type of animal mistreatment."