Located in the Los Serranos region and 60 km from Valencia, Chulilla hides an impressive attraction among its incredible natural landscapes with a multitude of hiking options in its surroundings. If you visit Chulilla in summer, the Charco Azul route is a good plan.
It is a short 4-kilometre journey through a heavenly backwater of turquoise waters, which was formerly used as a weir to irrigate the town's orchards. It is a perfect excursion to do with children, since it does not present any difficulty and, in addition, you can skirt the Turia river from inside the canyon and take the opportunity to take a refreshing bath on arrival.
The path starts from the Plaza de la Baronía de Chulilla, where the path SL-CV 74 begins. Going down Calle Santa Bárbara and Calle de las Cuevas, the SL-CV 72 appears, which surrounds the castle mountain. The beginning of the path is a wide track that descends between carob trees to the bottom of the canyon, where monumental walls rise, perfect for climbing.
A few metres further on, there is a crossroads, take the right fork if you want to continue the route bordering the river. The path through which this area is traversed has some steep slopes equipped with stairs and railings, so the journey can be done without any difficulty. At this point, the views of the monumental rocks, which can exceed 150 metres, are impressive.
1.5 kilometres later, the path continues bordering the canals until it reaches some old hydraulic installations, which cross through the town and carry the water to the power plant. After leaving this old house behind, you have to go down some small stairs until you can reach the wooden walkways, a sign that the goal has already been reached: the Charco Azul.
The blue color of its waters next to the walls that guard it 10 metres away at its narrowest point, make the Charco Azul route a spectacular place in the region.
On our route you can also cross the famous hanging bridges and remount the Turia river by a magnificent path to reach the reservoir Loriguilla.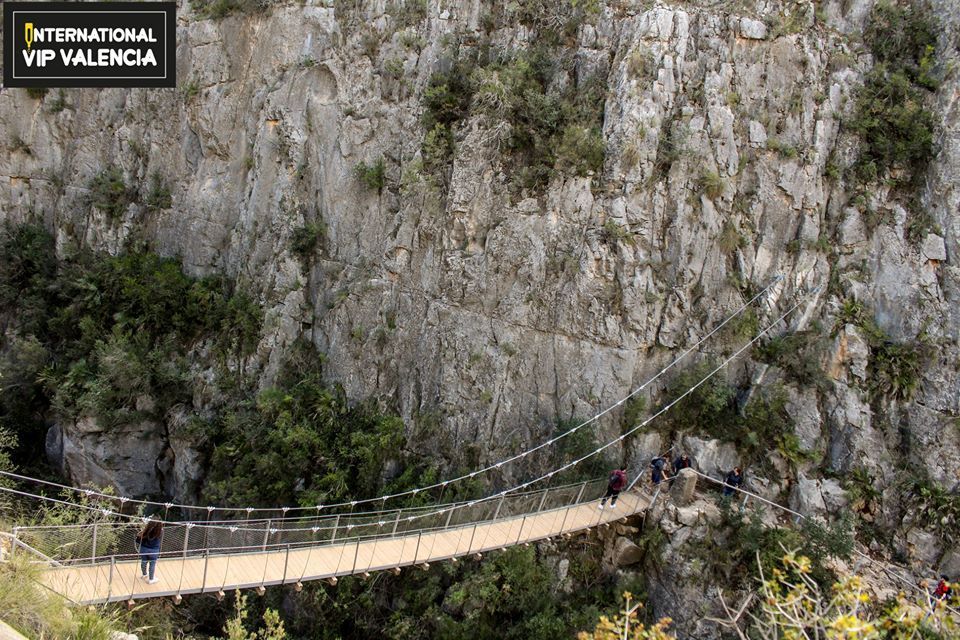 Take your own food and water!
After the hiking, spend time in the beautiful historic town of Chulilla with its narrow streets and its castle that we can be visited for free.