Many will remember the excellent Facebook group run by Jill Leonard, which unfortunately ceased to be in October 2020. Well, it is back in a different but better way.
Jill has developed a wonderful new app to help in times of fire crises.
I have just downloaded it an can say that it is well developed, simple to use and I am sure it will be invaluable should we be unlucky enought to face any of those beastly forest fires in the future.
You can download the app from Google Play and the App Store now.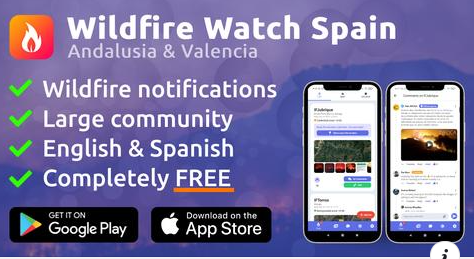 Jill tells us that "It has been running in Andalucia since 2021 and we already have over 37k downloads for that area. Because of the usage of the group in this area, during the previous years of the old group format, we have decided to roll out the app to this area, in the hope that you all find it as useful as Andalucia do."
"Exciting times! We are back! Bigger, better and thanks to Bas Buur Web Development, we can offer help which is suitable for the 21st century!"