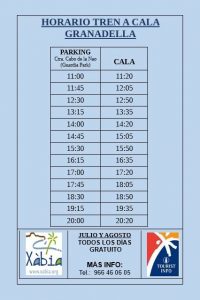 Catch the train from La Guardia Park urbanisation, located opposite "Ra Mos" restaurant,  3.9 kilometers from Granadella beach.
Previous Story………
The new site offers greater possibilities for parking vehicles than the previous site, which caused many headaches and problems for some residents in Costa Nova last summer. Although a new location has been found, we do wonder whether last year's problems will just be shifted and not actually resolved, although it seems that the council have taken notice of the complaints on 2017. 
Last summer, residents complained about having their driveways blocked and rubbish scattered around the area, not to mention fire risks as the bus park was in close proximity to forest areas. 
There is now an official stop for the train, with a shelter and two benches. In addition, there have been improvements to the sign-posts in the area indicating where visitors can park.
Next to the new stop there is a huge car park and throughout the streets of the urbanisation, all road signs have been repainted and and designated parking areas are apparently clearly shown so that visitors do not intrude by parking in resident spaces.