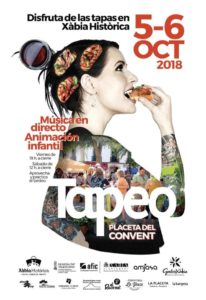 An array of different stands will be present  in the Old Town on 5th and 6th October, in the Placa del Convent, offering the best dishes with a great variety of products. In addition, adding to this gastronomic event there will be music, live performances and also children's entertainment.
The tapas festival takes place in the Placa del Convent in the centre of the old town on Friday 5th from 7pm  and Saturday 6th October from 12pm until late.
Without a doubt, a good opportunity to go out with family or friends and savour the best of Spanish tapas. 
Buy tapas-tickets at the event and spend them where you want 🙂 
Event and map here