Teulada – Moraira Lions are once again happy to present a fabulous free concert on the seafront in Moraira.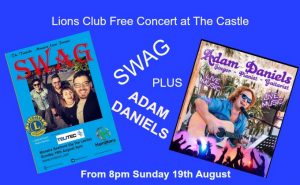 The TM Lions Club are presenting 2 fabulous acts this Sunday at The Castle. Solo musician and singer Adam Daniels at 8pm followed by the band, SWAG at 9pm 
This will be a free show but all donations will always be gratefully received if you care to throw a little in the buckets 😀 
The show starts at 8pm so don't be late for a fantastic evening.