Firstly and most importantly – do your research
Our first piece of advice is to go by PERSONAL recommendation. Ask some local people who they have used and for their opinion. Don't take the first one they suggest, delve a little more, especially if you will have to part with a lot of your hard earned funds.
Try and collect perhaps three or four names and then do your research. Social media is not always a good source of recommendations but a genuine Facebook Business Page should have a "reviews " tab where you can see mostly genuine reviews. The business cannot remove negative reviews without appealing to Facebook and stating their case. If they do not have a review page, then that may ring warning bells. You will find the review tab via the dropdown arrow (More) as illustrated below…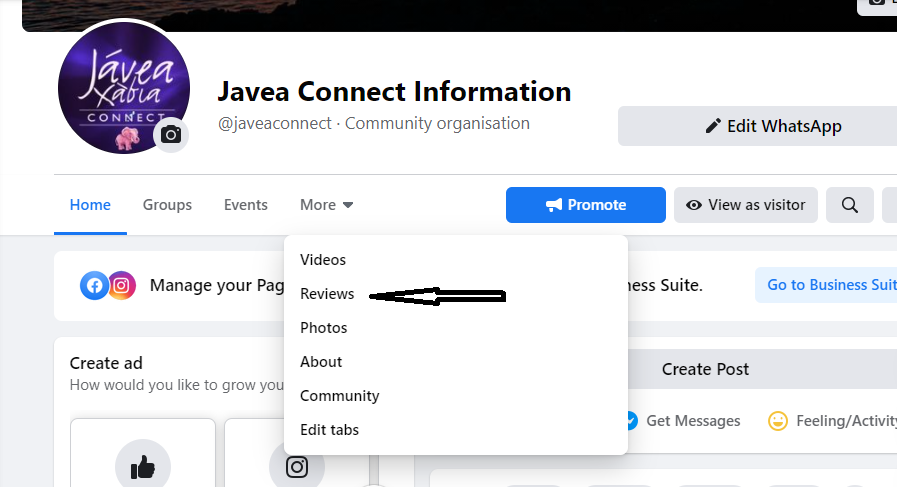 Check that the business is registered
Builders and other skilled labour should have a company registration card (CIF number) or be registered as self- employed professional (Autonomo). Although this is not guarantee of their quality it does mean that they are registered for tax purposes. It is illegal to pay money to someone who isn't.
Ask to see photos of their work.
If possible, visit something they have completed and ask for a reference from the home owners. Has the builder/tradesman done what they said they would do and finished on time? Delays and hold ups between jobs are often an issue.
Ask for a written estimate of how much the job will cost from three sources.
You are looking for good value for money, not someone who provides the cheapest quote and cuts corners. Is the company insured and are the materials he is purchasing of good quality? Beware of anyone who comes in with a much lower quote. You might want to ask why.
Should you pay "up-front"?
You may be expected to pay some money at the beginning of a large project to cover the cost of purchasing materials and getting it underway. However, you should not pay everything up front and there should always be a final payment due when the work is completed. Make sure you are fully satisfied with the work done before you pay this.
Get receipts and invoices
Needless to say – ALWAYS GET A RECEIPT/INVOICE. Without this, should anything go wrong, you pretty much have no leg to stand on.
Complaints Book or Hojas de Reclamaciones
If you believe you have a complaint about a business, that is not being attended to correctly, then you ask for the "Hojas de Reclamaciones". Normally the proprietor, or manager, will try to resolve the issue without recourse to this measure. But if no agreement can be reached, the booklet should be produced. Every business must, by law, have one of these record books to hand.
And finally…
The Javea Connect website hosts a Business Directory. We keep fiscal records on everyone who places a business advert with us and will always help should you have a problem with any of our sponsors.