It has been a month since Cristina Garcia del Campo first published a warning in the Javea Connect group about the potential dangers of taking the pain relief drug Nolotil (generic name: Metamizol)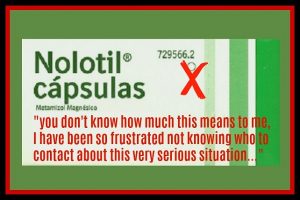 Since that date the message has been spreading, not only locally, but also nationally. Cristina has been inundated with messages and emails from people who have been affected by Nolotil, some to a lesser degree but others have had far more serious consequences.
It should be said that Nolotil does not affect the majority of Spanish born people but Anglo-Saxons in particular are very vulnerable and we know of cases where it has resulted in death.

Since mid January, when Cristina decided that something must be done to raise awareness in the medical field, she has come a long way and has published 2 updates via the Javea Connect Information Facebook page, which have been shared to many other local groups (mainly Ex-Pat groups) but there is still much work to do and the more people become aware of her work, (which has been undertaken in her own time) the more chance she has to reach the medical practitioners and pharmacists who really need to know !

Last week Cristina had a meeting with the Commissioner of Universal Healthcare and Public Health. He showed a lot of interest but she is still waiting for Pharmacovigilance (the practice of monitoring the effects of medical drugs after they have been licensed for use, especially in order to identify and evaluate previously unreported adverse reactions) to finish their study and make a decision.
This week she will be having a meeting with the Director, Deputy Director and Head of Pharmacy at a local hospital.
Yesterday, Cristina received an email from a local man who almost lost his wife because of Nolotil. He has given his permission to quote " "Thank you, you don't know how much this means to me, I have been so frustrated not knowing who to contact about this very serious situation."

IF YOU HAVE EVER HAD AN ADVERSE REACTION TO NOLOTIL/METAMIZOL, NOW IS YOUR CHANCE TO LET HER KNOW SO SHE CAN ADD YOU TO THE LIST AND ACHIEVE MORE RESULTS.
Click here to download the form: https://jumpshare.com/v/yuhCtW9SYF0ws7hRQgdU and e-mail it to her at [email protected]
The most serious side effect of Nolotil is neutropenia or agranulocytosis , terms that are used to refer to a significant decrease in the number of white cells found in the bloodstream. This clinical picture presents with symptoms such as fever, breathing difficulties, feelings of tiredness and weakness or ulcers in the mouth.If left untreated, agranulocytosis can lead to death. This is why the sale of metamizol has been limited or banned in a large number of countries, including the United States. However, it should be borne in mind that, in general, the Spanish population seems to have a low predisposition to develop this worrisome syndrome.As for the other side effects, the most common include allergic reactions on the skin and mucous membranes, digestive discomfort, breathing problems (especially in people with asthma) and low blood pressure, ie hypotension.
Comments on this website are welcome and please share via Facebook, Twitter or Google . Every share makes people more aware. Thank You. 

To read more regarding this inquiry, click this link.