You can, if you wish, check the number of infections in your locality and the restrictions that the authorities may impose at all times if your town or city is at high or extreme risk level.
Coinciding with the declaration of the state of alarm, in October 2020 the Government and the autonomous communities approved an action plan against the coronavirus that includes the one known as ' Covid Traffic Light ', which is a system that establishes five levels of risk depending on the situation epidemiology of each region or municipality: new normal, low, medium, high or extreme. Each level of contagion risk is associated with a different colour:
Green: New normal
Cream: Low Risk
Orange: Medium risk
Red: High risk
Brown: Extreme risk
On this map you can see the situation in your town and the closest towns, as well as the rest of the municipalities of Valencia, Alicante and Castellón, with official data on infections and deaths from coronavirus.
CLICK THE LINK ON THE PHOTO BELOW and use the + and – on the map to zoom in and enlarge the desired area and view all the data provided by the Ministry of Health.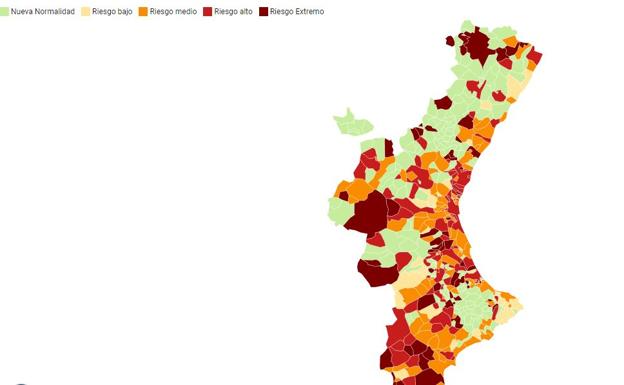 In this table you can see the alphabetical list of all the municipalities of the Valencian Community with their level of risk based on the Accumulated Incidence (AI) in the last 14, with the positives detected when performing the PCR . You can carry out personalized searches for specific municipalities using the search engine at the top left of the table.
The data are updated as the Ministry of Health publishes them (twice a week) and the date of the last update can be seen at the bottom of the table itself. You can update the news periodically to know the latest figures, which are published on Tuesday and Friday of each week.
The plenary session of the Interterritorial Council of the National Health System (CISNS), chaired by the Minister of Health, Salvador Illa, and the councilors of the branch of the autonomous communities, approved to establish four levels of alert with action measures against the coronavirus. Each level is associated with a series of restrictive measures and the municipalities are at one level or another based on various epidemiological, technical and health criteria set by the Government and the autonomous communities.
This is the document of ' Coordinated response actions to face the Covid-19 pandemic '. If you cannot view it correctly, click on the link or activate the computer version on your mobile device.