Not wishing to scare or alarm, just wanting to warn people as this was seen one of the Spanish papers today. 
***** SINCE THIS ARTICLE WAS PUBLISHED, WE HAVE RECEIVED MORE INFORMATION REGARDING DANGEROUS, UNCOVERED HOLES IN THE LANDSCAPE. PLEASE EMAIL US IF YOU KNOW OF ANY IN YOUR AREA. [email protected]
Whilst on a walk with his dog today, a local man noticed his dog sniffing near a playground where an old well is situated. The metal cover had disappeared and an abyss opens before his eyes.
Another resident of Denia walked yesterday on the outskirts of Montgó, in Dénia , near the Urbanization La Pedrera. Among the vegetation he spotted, another dark hole through which a child could fall. It is one of the many old cisterns of mountain settlers, some of which are up to six metres deep. Again without security lids.
The land is bored for many different reasons. Failed surveys in search of water; execution of blind wells that are later abandoned; old constructions which have dilapidated with the passing of time; illegal wells without permission from the Administration, and so on…
The tragedy of the little Julen has put the focus on vigilance and security of these treacherous gaping holes throughout the Valencian region.
According to sources from the Provincial Consortium of Alicante, during the past year its members carried out a dozen rescues for falls in wells or holes dug into the ground: eight involving animals and two to injured people. The bomberos of Castellón also remember the rescue of a dog in the well of an abandoned farmhouse, at a depth of six meters.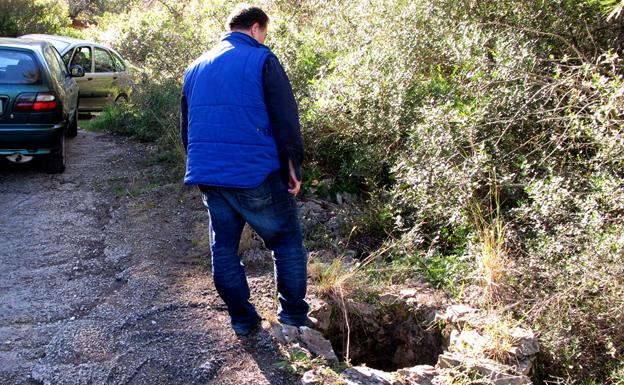 Illegality figures
What figures are known? Greenpeace talks about one million illegal wells throughout Spain. The action of the Service of Protection of Nature (Seprona) of the Civil Guard brought to light the existence of 73 illegal wells in the areas of Júcar and Segura between 2013 and 2017, most of them in Valencian lands and with a special incidence between Alicante and Murcia.

Christoph Beckmann tells us:-
"Not only on Montgó!
Some weeks ago a little girls fell 4 Metres into a water-basin beside a school in Javea, because the hole was not covered in a safe way!
A father jumped at the end also the 4 meters into the basin, because nobody( police etc) had no equipment for this emergency. They didn't know what to do and did like always bla bla bla…..
So take care of your children, you cannot expect something from the responsible persons in the city administration.
It's a shame!"
My dog, Bandit fell down one of these last year, luckily the rescue team were amazing, but the hole wasn't secured at all and almost a year later is exactly the same, it is an accident waiting to happen with a child.😱