Mega LineUp at Botanico Restaurant Cocktail Bar In behalf of Cruz Roja Jávea's appeal for children at Christmas, a dinner menu and live music entertainment from 6 performers. All proceeds going to Cruz Roja.
13th December – 20.00
Includes performances from;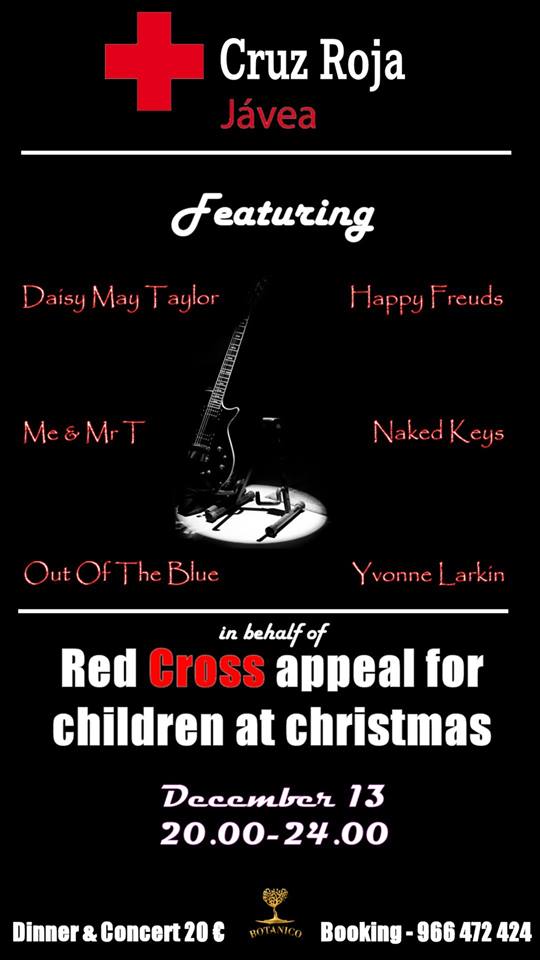 Daisy May Music
– Local singer/songwriter with original material
Happy Freuds
– Arranging the event and also doing an unplugged type performance
Me & Mr T
– Featuring Robban Jansson and plays a mixed set of originals and classic hits.
Naked Keys
– A new constellation featuring; Niamh OSheehan and Bernat Conca Marqués
Out of the Blue Javea
– Playing classic fav's from 60's, 70's and the 80's
Yvonne Larkin
– Performing a diverse repertoire of classic energetic songs.
From 20.00 until midnight.
https://www.facebook.com/events/1959027364419262/
20 euro menu/ticket and reservations via; 966 472 424.