The chef is one of the symbols of Dénia's cuisine and represents a way of understanding cuisine that unites tradition with the avant-garde . Cooks, producers, artisans and restauranteurs will be there to analyse what it means, what it implies and what the Mediterranean contributes in the world of good food.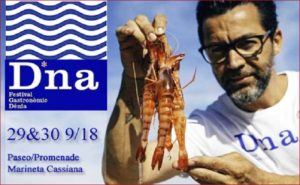 D * na is an original idea by  Quique Dacosta .
The chefs who will meet at the Marine Cassiana of Dénia next week, will reveal their "love stories" with the ingredients that have marked their personal careers: Bruno Ruiz's prawns, Elena Arzak's calamari, Dani García's tuna, the succulence of Pepe Rodríguez and the Chilean Mexican Ricardo Muñoz Zurita.
During the 29th and 30th of September, the Paseo de la Marineta Cassiana de Denia will be the scene of one of the most important culinary events on the national scene. 18 prestigious chefs will participate this year at the second edition of D * na Gastronomic Festival of Dénia, which is organized by Turisme Comunitat Valenciana and the City Council of Dénia and curated by the three Michelin stars, Quique Dacosta.
Each of the invited chefs will explain, in a large outdoor setting, what is their favourite ingredient, which defines their cuisine and their creative careers. In total 18 chefs will participate in a series of presentations and "show-cookings" where they will display their diverse culinary passions.
Pedro Morán, who runs the restaurant Casa Gerardo (Asturias), with more than 100 years of tradition and a Michelin star, will participate in the show, presenting a product that signifies the roots of his land, the bean. Meanwhile, the international presence of the festival will be marked by Mexican chef Ricardo Muñoz Zurita, from the Azul Histórico restaurant (Mexico DF), who will also present one of the essential products in Mexican cuisine, chilli.
Pepe Rodríguez, from El Bohío (Illescas, Toledo), will talk about the succulence that characterizes his dishes; Dani García, will work with the tuna that stars in the kitchen of his homonious restaurant in Marbella, Malaga; Elena Arzak, from the restaurant Arzak (San Sebastián, Guipuzkoa), will make an entrance with squid; Pepe Solla, from Casa Solla, will talk about fish, and Oriol Castro will come from the restaurant Enjoy (Barcelona) to surprise the public with his passion for the espadrille.
 Valencian Cuisine
The gastronomy of the Mediterranean will be the main focus of the meeting. Eleven of the participating chefs come from restaurants located in the Valencian Community.  The fireworks of the Bruno Ruíz festival ( the last winner of the Red Dove Gamba Creative Contest) will be lit. The chef at the head of the Aticcook restaurant (Dénia) will present prawns as his star product.
Place : Walk of the Marineta Cassiana- Marge Roig (Dénia)
Dates : September 29 and 30 2018
Hours : Saturday, from 11.30 am to 11.00 pm; Sunday, from 11.30 am to 7.30 pm. 
Read more at the source article on La Marina Plaza