Next time anyone bumps into Miguel in Pinosol park carving his wonderful works of art, ask him to make us one of these please ……………..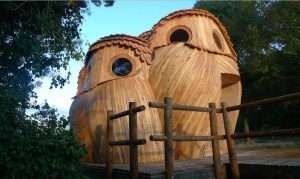 A cluster of three hollow wooden owls peer out from the end of a dock in Bordeaux, France, connected from within to form a two-story cabin. The Watchers was designed and built by Zebra3, a local contemporary art production company. The design was inspired by the small owls that nest on the ground in the surrounding marsh, with shingles to match their feathery heads.
The structure is a part of a series of unique buildings scattered throughout the region, cabins that invite guests to spend the night for free in order to encourage hiking and exploration.
Full story and more pictures on the original feature by Collosal