Time is running out for entries to a singing talent competition, "Win With Your Voice 2018" . The deadline for registration is September 8, at the Portal de la Marina Shopping Centre, Alicante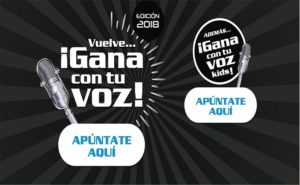 It is a contest that serves as a springboard to fame, making a leap into the real world of music. The winner will stop being just a local singer to enjoy his or her moment of fame. In addition to being recognised in the different social networks of Telecinco, which has more than 4 million followers, he/she will be given the chance to record a single with the prestigious and famous producer, Tony Sánchez Ohlsson. They will also have the opportunity to act in one of the main Telecinco shows.
Children's  Edition
The contest in this edition is aimed at youngsters aged between 6 and 14 years.
'Win with your voice' is open to  solo singers, resident in Spain. Those interested in participating must go to the website, www.ganacontuvoz.com and choose the category  (adults or children) – and complete  the application form, attaching a link to a video performance, which has been uploaded to YouTube.
Portal de la Marina adds to its commercial and leisure area of more than 90,000 square meters, with this musical initiative and the commitment to give a huge opportunity to emerging talent.