Pilots at Spanish low-cost airline Vueling plan to go on strike for four days in April and May in a dispute over contracts, national pilots union SEPLA said on Thursday 13th April. MADRID (Reuters) –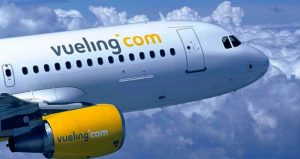 The pilots will walk out for 24 hours on April 25 and 26, and May 3 and 4, SEPLA said in a statement on its website. A SEPLA spokeswoman said the pilots alleged the company was not fulfilling conditions of their employment agreements.
Nearly 90 percent of the Vueling pilot group voted in favour of calling work stoppages at and the strike is scheduled for 4 days…..April 25th and 26th and May 3rd and 4th.
"Madrid, April 13, 2108.  The Vueling pilots will go on strike. The head of the Trade Union Section of SEPLA, Juan Manuel Redondo, said at a press conference, accompanied by the President of the Spanish Union of Air Line Pilots, Óscar Sanguino, Tristán González and Jesús del Real, delegates unionists and Pedro Arriola, head of the Legal Department of SEPLA. The Trade Union Section of Vueling echoes the will of the pilots, who supported the measure by more than 90 percent in a vote carried out recently."
Spanish airline Vueling operates flights to Alicante, Barcelona, Palma, Ibiza and Malaga from many British airports including London Heathrow, London Gatwick, Luton, Manchester, Birmingham, Cardiff and Edinburgh.