Jane Longden of Javea Blinds wrote a post in the Javea Connect group warning people to be extra alert and careful after her shop was broken into last week, along with 2 more shops in the same parade in the Cabo La Nao that were also ransacked last week! 
This following article and photos have been taken from Xabia Al Dia after a run of burglaries in the Old Town and along the Cabo La Nao last week.
"A gang of robbers has targeted the shops of the historic centre of Javea. In the last weeks the assaults on the businesses there have increased.
The last robbery occurred in the early hours of Thursday morning in the Plaza de la Iglesia. Curiously, this place already suffered a similar attack a year ago. This time, they chose to access the premises through one of the windows. They tried to break in by throwing a huge pot at the glass but this did not fully work and finally, after several blows they managed to break a small hole and then opened the window and gained entry. They took the cash that was inside and ransacked the entire bar. 
Just as shocking was the one suffered by the restaurant Trinquete, last week. The robbers accessed the premises from the roof. It was about 4 in the morning when the alarm was triggered, but according to XAD, the owners of the bar said, "he must have stayed quiet and motionless for a while." Then, after a further 15 minutes, the alarm was activated again but the thief had already left.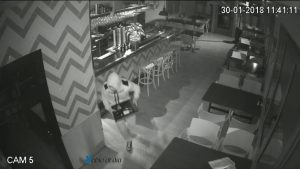 He took the money from the cash register and then ripped the drawer away to take it away. -That is the moment that this photo was taken by the CCTV camera-. This image and the rest of those recorded by the cameras are already being analyzed by the Guardia Civil who are already investigating these two robberies, as well as others that have occurred in recent weeks, both in homes and premises. 
Police will obviously be interested in any eye-witness information