Video above shows the view from the L1 TRAM as it passes in front of the Campello beaches:
The TRAM is the rail transport network that connects the entire metropolitan area of ​​Alicante and several nearby towns. Since its inauguration it has become the preferred method of transportation for Alicante residents to get around the city and surrounding areas.
All service lines stop at the Luceros central station, except line L9 that connects Benidorm with Denia. These are the TRAM schedules with their lines, frequencies, stations and routes.
🚊 Line 9: Benidorm – Denia
The connection between Benidorm and Denia is made with line 9 . It is known as the 'Trenet de la Marina' , as it makes the route passing through several towns in the area.
Line 9: Benidorm – Denia
Frequency: 60 minutes
Stations: 18 (1 shared)
Distance: 50 km.
It is the line that travels the greatest distance. From Benidorm to Denia, it has 18 stops: Benidorm, Disco Benidorm, Camí Coves, L'Alfàs del Pi, El Albir, Altea, Garganes, Cap Negret, Olla de Altea, Calpe, Ferrandet, Benissa, Teulada, Gata, La Xara, La Pedrera, Alqueries, Denia.

Schedules in PDF format:
TRAM map by zones and rates
The price of the ticket depends on how many areas you travel through on your trip. There are a total of 3 zones:
Zone A: Luceros – Poble Espanyol
Zone B: Amerador – Olla Altea
Zone C: Calp – Denia
Trips from the metropolitan area of ​​Alicante and those on line 4 through San Juan are included in Zone A, and will only pay for a single ticket. For other trips, the more areas the route includes, the higher the cost of the ticket. Single tickets can be purchased at any of the vending machines at all stations and inside the carriages.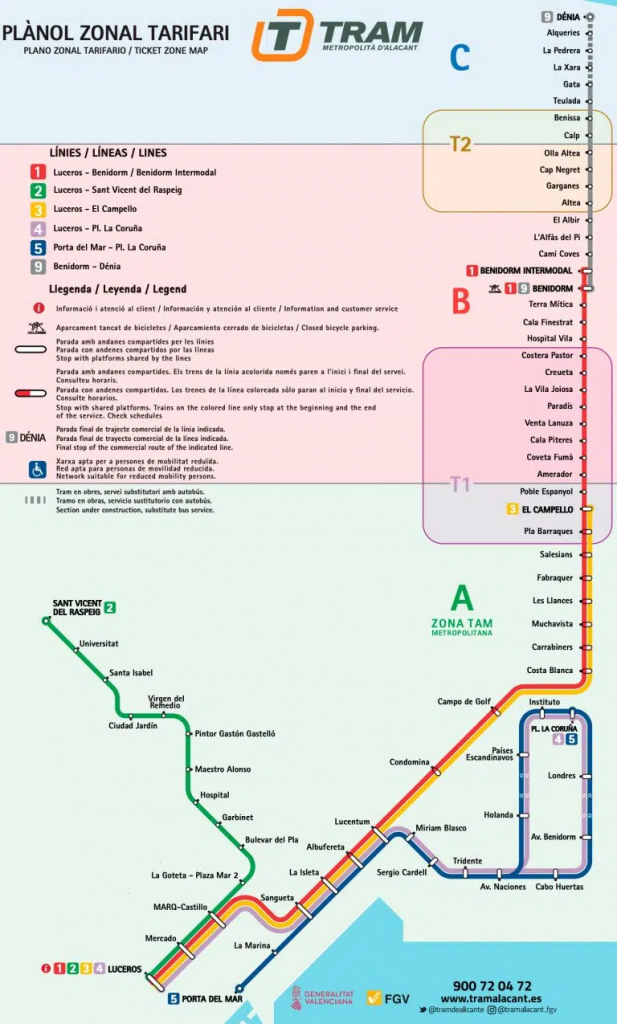 Se know this all sounds rather daunting but it is simpler than it sounds! You can go to the website direct, see more, book tickets and check times a ( as they do change from time to time) – just click the button below.