Something for all the family! Parades, breakfasts, paellas, music, bulls with carts, plus an evening party with live music and entertainment throughout the day in the Prado, with a bar service also. 
Ondara will come alive on Saturday, January 27 with the popular celebrations of Sant Jaume 2018, organized by the Council of Fiestas and Traditions of Ondara City Council.
Programme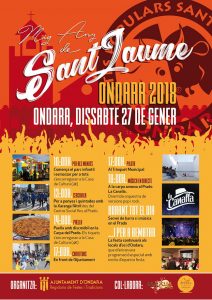 The activities will begin at 10:00 a.m. with the opening of the playground with inflables for children of all ages in the vicinity of the Prado. Also at 10:00 am the breakfasts will begin ( breakfast tickets must be ordered at the Ondara Culture House at a price of 3 euros).
At 1:00 pm, the parade will be held for clubs and fifties , as in Sant Jaume, with the musical accompaniment of Xaranga l'Atril from the Social Center to the Prado, and at 2 pm, A paella will be offered (tickets for the paella must be ordered at the House of Culture of Ondara, at the price of 4 euros per person). During lunch and later hours, there will be a music  with "Santjaumera".
The children will enjoy the Migdia de Sant Jaume with the release of "bulls with carts" in front of the Town Hall at 5:00 PM. At the same time, the half-year ball game will start at the Municipal Trinquete de Ondara.
From 6 pm there will be a partying in the tent adjoining the Prado with the live performance of the group La Canalla , a fun orchestra that will offer versions of pop and rock. After the concert, the Migdia Festival of Sant Jaume will continue at Ondara's entertainment venues , which will offer a special programme.
Throughout the day there will be bar service at popular prices and music in the Prado.
Regarding the payment for both paella (4 euros) and for breakfast (3 euros), attendees must register and pay the corresponding ticket to the Casa de Cultura.