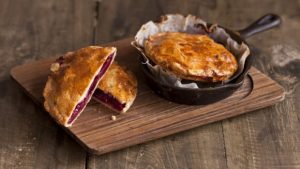 February 20th is National Cherry Pie Day, so I thought this week I would try to tempt you into making a traditional pie from the Basque region. With the added flavours of rum and brandy, all it will need is a dollop of cream or a slug of ice cream to top it off 🙂 
Right now fresh cherries are not around but I can recommend the black cherries in jars found at Aldi all year through. They are already de-pitted and are delicious and not too sweet. Use a little less sugar if not using fresh cherries.
Ingredients
250g fresh cherries, halved and pitted
300g castor sugar
1 tbsp brandy
Grated zest of ½ lemon
125ml water
3 eggs
350g plain flour, sifted, plus extra to dust
200g unsalted butter, softened and chopped
40ml dark rum
Method
Place cherries in a small saucepan with 60g of the sugar, brandy, lemon zest and water. Stir well to dissolve sugar and cook slowly over low-to-medium heat for 45 minutes, or until a loose jam forms. Remove from the heat and cool.
Meanwhile, lightly beat two eggs in a bowl. Add flour, butter, rum and remaining sugar, and mix with a spoon until the dough comes together. Shape into a ball, dust with a little extra flour, wrap in plastic and refrigerate for 30 minutes.
Preheat oven to 180C. Roll pastry into a large log on a well-floured surface. Slice into 12 rounds about 1cm thick. Grease and flour six 10-cm heavy-based pie tins. Roll each pastry round out to about 5mm thick. Use half the rounds to line the tins, then spoon cherry jam into pastry shells. Cover with another round of pastry and press the sides to seal well.
Lightly beat remaining egg and brush over pie tops. Using a small sharp knife, score tops for decoration. Set pie tins on a heavy-based baking tray and bake for 30 minutes, or until golden.
Serve warm.