If you want to live the experience of flying in a paraglider, with Getxo Paragliding you have the opportunity to do so, flying as a  passenger and accompanied by a professional pilot . (See video above)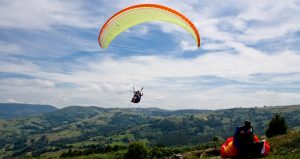 It is very easy,  no experience is needed and everyone can do it regardless of physical condition. You just need to enjoy new sensations and have fun. We take care of everything: We will help you in takeoff and landing. All with  maximum security : state-of-the-art equipment approved for two people (including the emergency parachute) and qualified pilots with many hours of flight and experience.
For more information, see the website at http://parapenteairean.com/vuela-en-parapente/
ALSO.. Doyouwanna?
If you look for increasing your confidence, fly several sites, learn new flying skills, have no stress about retrievals and finding the best spot to fly, you'll definitely need to fly in Alicante.
Doyouwanna offer professional guided paragliding holidays as well as Tandems in the Alicante region of Spain
Alicante with its best climate all year round in Europe, will let you enjoy its coastal sites, thermalLing sites and XC hills.
Doyouwanna paragliding is all about flying lots and safe with local pilots, who will guide you into the best flying.
Also organising passenger flights, tandems with instructor.  Gift vouchers possible.