The Baleària shipping company and a specialist team from Ardentia Marine have a few weeks of intense work ahead of them . Capitanía Marítima and Puertos de la Generalitat give the first phase a green light to take the ferry that ran aground at midnight on August 16 from the northern breakwater of Dénia . In the end it has been ruled out to refloat the ship and the procedure now adopted is a removal plan , which implies removing it by sections, to parts . The work started yesterday after the maritime authorities dismissed the refloating of the 'Pinar del Río'.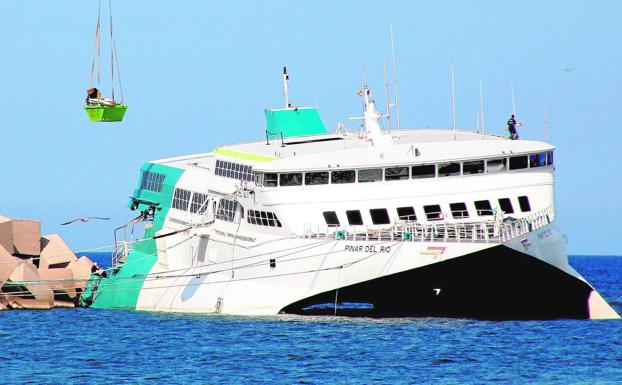 The arguments to reject this alternative are the great difficulty of the area in which the ship is located, since the large blocks of the jetty are there and that section has little draft, which would complicate the installation of the platform that would have been necessary. To this we must add the damage suffered by the ship and the subsequent structural deterioration that the ship's hull has experienced as a result of the inclement weather . The ship has 74 meters of length, 26 of beam and space for a maximum of 463 passengers and 80 vehicles.
Yesterday, you could see how the first steps were developing, namely, gutting the boat. Both Baleària and the contracted team proceeded to remove various pieces. Shipping sources explained that they had begun by removing some moving elements , such as the ship's seats. Once this work is completed, the disassembly of the different sections of the ship may be undertaken.
A large crane will lift the containers with the elements that are already being removed
The plan also includes the installation of a marine barrier around the vessel . When closing the perimeter, it is intended to guarantee the passage of maritime traffic entering the port and, in addition, to avoid any possible environmental damage.
The shipping company pointed out that this first phase of removal is going to last several days. During the entire duration of the work, the ship will continue moored and secured to the rocks of the dike.
The plan is also to place a marine barrier on the perimeter to ensure safety
On Wednesday of last week a crane was used to remove the vehicles from inside the ship and transfer them by air to the mainland , from where they were taken to the parking lot waiting for the owners to come to pick them up.