lnchequin Solo Featuring Hugh O'Neill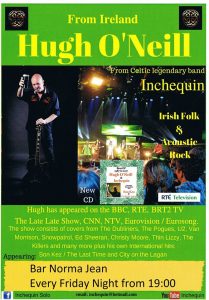 Multi instrumentalist Irish musician and entertainer comes to Spain and will be resident entertainer at Monroes Carvery, Pedreguer every Friday from 19.00
Hugh was front man for Celtic legendary group lnchequin for many years. He composed and performed their two international hit singles Son Kez I, The last Time and City on the Lagan. He  has   performed on BBC, RTE, The Late Late Show, CNN, NTV, Eurovision/Eurosong to name but a few.
After moving to Cyprus he was voted top live act in 2017 for his performances to tourists, locals and ex-pats leading to regular appearances on Cyprus's national TV station BRT and Radio. Hugh has toured and performed in 18 countries including starring as Bodrum's (Turkey) best live performer for six years.
His show is about involving his audiences and giving them a night to remember. From the first song to the last Hugh holds the attention of his audience.
Along with his own songs from lnchequin's seven albums, Hugh performs his unique Celtic version of genres:from the Killers to Ed Sheeran, from Bob Dylan to Bruce Springsteen, from U2 to the Dubliners,and a range of international hits with a Celtic flavour all performed totally live on acoustic and electric guitars, harmonicas, bodhran and stomp box drum.
Hugh will perform his impressive and exciting live show every Friday at Monroes, Pedreguer. 19.00 to 22.00