We understand that this market is quite magical and excellent for children too. Free parking also.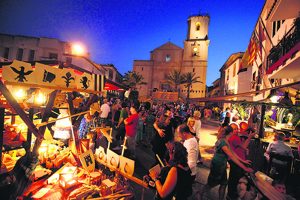 The  Medieval Market will be held from Friday 6th until Sunday 8th July from 6 pm until midnight and located at: San pla plaça, Els Xorros carrer, plaça Santa Teresa, carrer Major, carrer Enmig and plaça Major. 
PLEASE BE AWARE THAT LAST YEAR THERE WERE A FEW COMPLAINTS REGARDING THE PRICE OF FOOD ON MEDIEVAL MARKET STALLS AROUND THE COSTA BLANCA. MAKE SURE YOU ASK THE PRICES BEFORE YOU ORDER
60 authentic craft stalls with demonstrations in direct or, where the craftsmen will make pieces by order at the moment and facing the public. There will be ceramics and pottery, shoes, handbags and belts, glass, jewelry, design jewelry, turnery wood, carved stone, handmade soaps, perfumes, binding, patchwork etc. Some craftsmen will demonstrate their skills and invite the audience to participate as making a recycled paper sheet, a clay bowl on the potter's wheel. 
Night entertainment and children's attractions
In addition to the decoration and the medieval stalls there will be minstrels, falconers, storytellers, dancers, mosquitoes, buffoons, pageants, beggars and other characters will mingle with the public, ensuring that this does not get bored at any time.Air acrobatics performances will be held and the market will be closed every night with a fire show at the Plaça Major. 
For the children there will be a playroom with medieval games, an animal farm, pony rides, pottery and paper making workshops, and a wooden merry-go-round.  
Gastronomy and Medieval Atmosphere
In the gastronomic corner we will find food stalls: artisan cheeses and sausages, salted, dried fruits, bread and sweets, as well as two medieval taverns, a grocery store, a creperie and a hammock with Arabic food. 
Free parking and Tourist Information Point All visitors to La Medieval Market can park free of charge less than 50 meters from the fair in the parking lot of Les Nits (400 seats), located on Porvilla Avenue in front of the Health Center and In the Planet parking lot. In the plaça Major there will be a tourist information point of La Nucía.