Marjal National Park and La Font Salada 
La Font Salada is located in Pego-Olivia Natural Park and has been known for its relaxing setting and bio-construction.
A perfect location for a day tip or family getaway as La Font boasts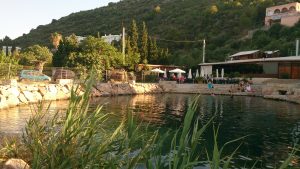 14 bright rooms in which you can stay over. 
Visitors can enjoy the fruits of the biological orchard, embark on nature walks, wander just a few kilometres to practice their golf, don a hat and go horse riding or if four legs aren't your thing try two wheels on a bicycle ride.
Be sure to bring your swimming costume and enjoy a dip in the natural warm spring. 
FONT SALADA
Those who wish to take a bath in a secluded place can approach the source of waters known as the Fuente Salada, both in winter and summer, since the waters maintain their temperature throughout the year. Its waters have been traditionally recognized as beneficial against dermatological diseases.
Animal lovers can visit the farm animals such as peacocks, chickens, ducks, horses etc.
Bringing your pet along? They have adapted rooms for visitors with animals.
There is an onsite restaurant and bar, as well as parking.
All age groups
Address: Ctra. Nacional 332, Km 210, Camí Sant Pere, s / n OLIVA
Font Salada Link
Link to Park