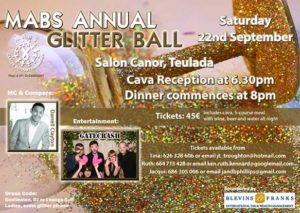 Tickets are now available for MABS Annual Glitter Ball, Saturday 22nd September at the Salon Canor.
Great night, 5 course meal, drinks (wine, beer and water) included all night with fabulous entertainment from Darrell Clayton and Gatecrash.
Please book your tickets now using the details on the poster.
What a fantastic way to help support a charity that helps so many.
Salon Canor is located at Camino de Assagador de Canor, s / n, 03725 Teulada.