News via Roadwatch.eu today
The DGT will launch a special campaign this week, aimed at clamping down on one of the primary contributing factors to road traffic collisions, using a mobile phone whilst driving.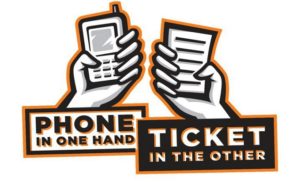 Currently, if you´re caught using your mobile phone in Spain you face a 200 euro fine and the loss of 3 points.
The campaign starts today (17 September) running all week and through the weekend, with officers from the Guardia Civil, supported by colleagues in the regional and local police, launching special checkpoints around the road network, as well as monitoring from the air, from both helicopters and drones.
During the campaign, a charitable organisation will be lending their support to officers trying to raise awareness of the dangers of mobile phone use whilst driving, which is the ASPAYM federation who deal with people with spinal cord injuries and physical disabilities, a real risk in road traffic incidents.
Mobile phone use has become one of the major contributing factors to road traffic incidents, one of the infamous "Fatal Four", which still remains a problem, mostly due to the development of smart phones and a need to stay connected to our social media.
Spain already has a network of smart cameras aimed at combating the plague which haunts road users. These cameras look for things like vehicle occupants not wearing seat-belts, and those using a mobile.
The action of "using a mobile phone" is also seemingly confusing for some, including here in Spain. Just because it is not near your ear, or you are holding in on "speaker" does not constitute safe practice, you are still using your mobile. The same applies to updating social media or using WhatsApp, the actions still cause distractions and are not allowed.
We must also remember that in Spain, the use of Bluetooth earpieces and headsets is also banned whilst driving. The only safe way of using a mobile is by having a true hands-free device in the vehicle, although still can still be a distraction.