Gastronomic route through bars and restaurants collaborators of Javea port, with events, crafts and many more activities, plus love music from Gatsby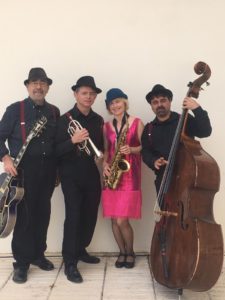 Without a doubt, a good opportunity to go out with family or friends and savour the best of Spanish tapas.
Taking a tour of Duanes, on the Spanish Marina Promenade, La Esquina will offer Red Shrimp Croquettes from Dénia with aioli and wasabi mayonnaise , La Bodeguilla , will propose to taste a toasted bluefin tuna with caramelized onion, while the Triana Restaurant will make a Crispy of cornmeal with fresh tuna and avocado. La Trattoria will prepare Raviolinis stuffed with seafood with lobster cream and Piri-Piri , Shrimp Ceviche with mango. The Calima Restaurant will offer beet Gazpacho with beet sprinkle skewer,Ca María , Cod delicacies with au gratin aioli and the Napoli Pizzeria will offer Focaccia al frutti di mare. The Noray Restaurant will serve Mejillones Albondiguillas with parmentier in its sauce .
In Adolfo Suarez Square, Tasca Port proposes to taste a Sepieta Sea Delight while the Varadero will do the same with some Thai-style squid noodles. The Pòsit Restaurant will offer seafood Ravioli with foie and truffle room and L'Almadrava , Scalloped Scallop with Iberian ham and hedgehog yolk muslin .
In the pedestrian Andrew Lambert, the Tal Cual prepare figatell cuttlefish with a twist "as is" El Bistro La Mona offer Mini Burger Cod while El Asador Margon made Monkfish with almond sauce .
In the Santísimo Cristo del Mar street, the Cande Restaurant will make a skewer of a crispy cod with ham aroma, the Iberian Andares will offer Romesco Chupito with dried and salted fruits and the Sotavent , Octopus and shrimp marinated in citrus dressings "Sotavent style" .
In the area of ​​the Promenade and adjacent, the Picnic Maritime Restaurant proposes a suggestive Okonomiyaki , the El Clavo Bar will perform Prawn with purple potato and hedgehog parmentier and the Bacoa Bar Duplex proposes Mediterranean Secret .
The offer does not end there as all these stores will offer drinks and soft drinks within the price of the tickets. Some of them compose a letter of copeo with proposals such as the Mojito de Piña de L'Almadrava , the classic Mojito de La Esquina , the Sangría Noray del Noray , the Gin Tonic with spices of Bistro La Mona , the Pink Crow of Tasca Port or the Sangría Blanca del Piri-Piri .
The sales system will be the usual one based on tickets being those of  tapas at 2 euros  and drinks at 1.50 euros . The stalls will be located on the Paseo Marítimo, in the Plaza del Presidente Adolfo Suárez and on the Paseo Marina Española. 
Schedule
11th and 12th October from 12:30 to 15:00 and from 19:30 to 23:00
13th October from 12:30 to 15:00