A traditional event rooted in the town that involves various events organised by the Penya La Burrera and the Tiraset Association.
This year, the party programme is smaller but the celebrations that make up the essence of these parties continue.
Saturday 15th January
12: 00 hours: Transfer of pine tree from Plaza de la Constitución to Calle San Antonio passing through Carrer Oms, Placeta del Convent, Ronda Colón, Virgen de la Merced and La Fuente. Organised by Tiraset.
20: 00 hours: XXII Cremà del Pi on the plot of Calle San Antonio. Event organized by the Tiraset.
Sunday 16th January
10: 00 hours: Concentration of participants in the parade on C/San Antonio to collect the Saint from his niche.
11: 00 hours: Parade of cars and carts. The tour begins on Calle San Antonio in the direction of Duanes de la Mar and returns to Plaza de la Constitución.
13: 00 hours: Blessing of animals and horses in the Plaza de la Constitución.
14: 00 hours: Departure of the participants in a caravan from Plaza Constitución towards Calle San Antonio to deposit the Saint in its niche.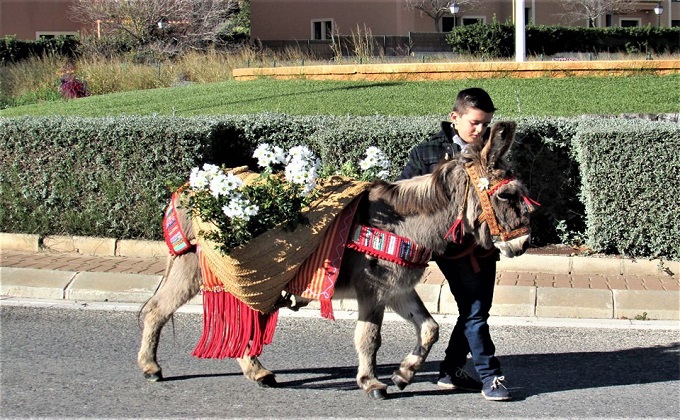 Monday, January 17th ( Sant Antoni Day)
9: 00 hours: Parade of the Festival Commission of Sant Antoni by Duanes de la Mar with dolçaina and tabalet. Organized by Penya la Burrera.
12: 00 hours: Solemn Mass in the Parish of Our Lady of Loreto and raffle of an image of San Antonio.
13: 00 hours: After mass, blessing of animals in the Plaza del President Adolfo Suárez. Organized by Penya La Burrera.
A Little History
Antonio Abad lived in Egypt between the 3rd and 4th centuries. He is said to have given all his worldly goods to the poor to live like a hermit in the desert. He died around 356 , on Mount Colzim, near the Red Sea. It is said that of old age but his date of birth is not known. Hundreds of Spaniards will go to the churches with their pets on 13th January to receive the traditional blessing on the occasion of the Feast of Saint Anthony, protector of animals.
The blessings also take place on different days in other provinces of Spain such as Madrid, Barcelona, ​​Burgos, Valladolid or Salamanca, among others.