Javea Local Police has denounced the Achill Nightclub in the Arenal for failing to comply with   practically all the nightlife restrictions that the Generalitat maintains in force. The venue kept open both the bar for customer consumption and the dance floor, which are two of the limitations still in force in the face of the health crisis. In addition, according to eyewitnesses, there were in the disco, counting between the premises and the terrace, approximately 200 young people, which also violated the capacity quota.
This was confirmed by Local Police agents, who appeared shortly before one in the morning at the Achill nightclub   and who also ruled that many of these young people occupied the dance hall without maintaining a safety distance or wearing a mask. . The Javea Police have drawn up a record for a very serious infraction that could lead to fines of up to 60,000 euros and the closure of the premises.
But at the same time… other nightclub establishments appeal to customers…
"WE ARE NOT US": Three leisure venues in Xàbia stand out from the irresponsible actions of others.
The many images that invaded the social networks of the first weekend of reopening of nightlife, there is a total breach of all the hygienic-sanitary measures in several leisure venues in Javea
Faced with this situation, three managers, specifically, those responsible for Moli Jávea, Socco and Kandhala, have met to express their demarcation in the face of harsh images of irresponsibility.
Those in charge of the three leisure venues mentioned show their displeasure at the irresponsible attitude on the part of other locals, "we are afraid that the non-compliance and irresponsibility of others will fall on us. From minute 1 we are working to comply with restrictions and offer the customer their leisure space safely, but the bad deeds of one makes it fall on everyone. "
The people in charge of the three nightlife venues are focusing on demarcating this irresponsibility and are calling for those who do not comply with COVID regulations to be sanctioned.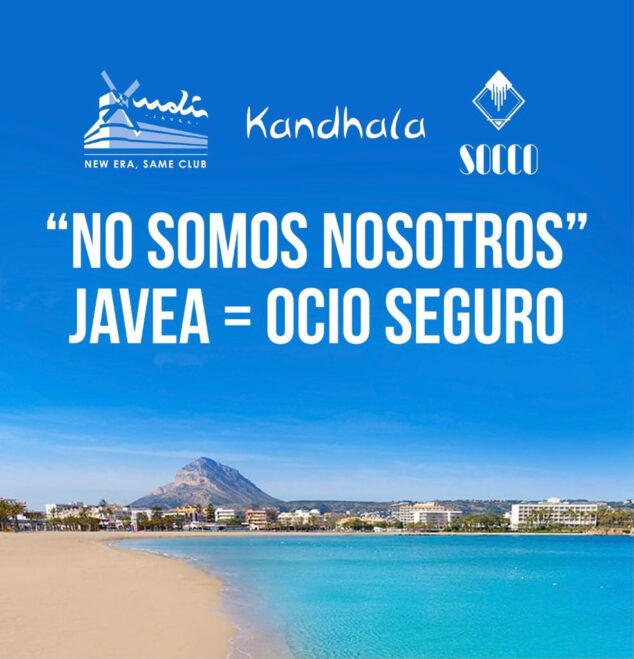 ** Cover photo is generic****
Stories from Javea.com and La Marina Plaza.